Intel Powered Aurora Supercomputer Is Gunning For AMD Frontier But Can't Catch It Yet
Although Intel and Argonne National Laboratory declared the
Aurora supercomputer
to be finally complete earlier this year, apparently it's not fully up and running just yet. It's only running with half of its 21,248 Xeon Max Sapphire Rapids CPUs and 63,744 Ponte Vecchio GPUs, which allowed it to snag second place in Top500's list of fastest supercomputers in the world, but not first place as expected. For the time being, the AMD-powered Frontier supercomputer at Oak Ridge National Laboratory remains the fastest in the world.
Aurora's development has been troubled of late, and it was supposed to first come online in 2018 as an exascale supercomputer. However, as Intel canceled the Knights Hills GPUs intended for Aurora and its 10nm node was nowhere near ready for supercomputer-class chips at the time, the project was significantly delayed. It was eventually upgraded to a
two exaflop
machine to make up for the delays, and earlier this year it was finally assembled.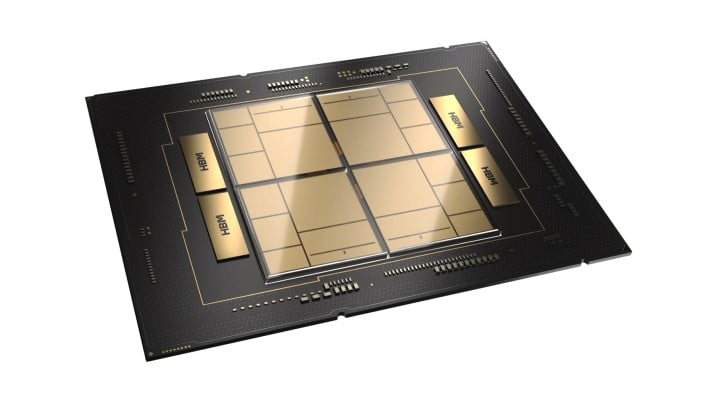 However, only half of Aurora is working and its peak performance was just 585 petaflops, well below the 1,194 petaflops or 1.194 exaflops of Frontier and nowhere close to the two exaflops Aurora is supposed to hit. To make matters worse, Aurora consumed 24.69 megawatts of power for half an exaflop, while for one exaflop and change Frontier just needs 22.7. Aurora will likely consume even more power to hit its full speed, which is roughly four times faster than what it ran at in the submission made to
Top500
list.
Although Aurora may eventually come fully online, it's taken so long that AMD's next supercomputer is waiting in the wings.
El Capitan
, which uses fourth generation EPYC Genoa CPUs, is set to be completed next year. Since the Top500 list is only updated twice a year, Aurora needs to get fully online by June in order to squeak by El Capitan. The Top500 list isn't the most important thing for Aurora of course, but it would certainly be a shame for Intel and Argonne if the supercomputer that they've toiled so hard to get to working never takes the top spot on the coveted supercomputer list. Time will tell.