Ford's 2024 Mustang Mach-E Rally EV Brings 480HP And Lifted Suspension To Dirt Roads
Ford is adding a new higher-performance addition to the Mach-E family called the Rally. As the name suggests, it intends on combining lots of power with added ride height and lots of durability improvements to give buyers the opportunity for some WRC thrills.
When it's released, the Mach-E Rally will be the most powerful and performance-oriented version of the EV in Ford's lineup, sitting a rung higher than the
GT Performance Edition
. While both have 480 horsepower, the Rally comes in with a slightly higher 650lbs-ft of torque. The battery pack will be identical to
extended range Mach-Es
, although the Rally settles for a 250-mile range (versus 290 miles) from the 91kWh pack. At least 150kW (max) fast charging will be on-board to potentially get the Rally from 10 to 80 percent charge in about 36 minutes.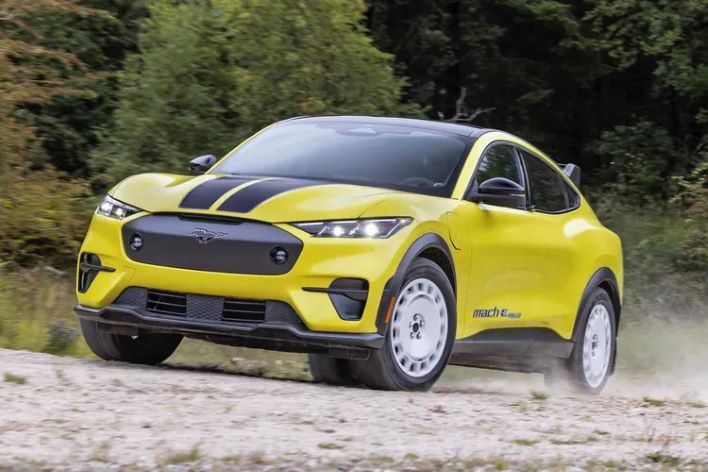 The bigger and more obvious changes come with a raised 20 millimeter ride height on MagneRide shocks, plus strengthened body cladding and spoilers that harken to the Focus RS (may it rest in piece). Larger 385 millimeter front brake rotors should help you from colliding with trees or moose.
We probably won't see the Mach-E Rally tackling off-road trails, as Ford states that the car is specifically made to have loads of fun on dirt and gravel roads. Anything worse will likely ruin those lovely 19-inch pie-dish wheels and lower body moldings. So while it's not a full-blown off roader, drivers will get to harness their inner Sebastian Loebs, partly thanks to Ford's new RallySport Drive Mode. The system allows for added yaw, throttle control, and more aggressive damping for those bigger jumps and slides.
Official pricing hasn't been released yet, but
Ford says
that the Mach-E Rally will come in around $65,000 (similar to the GT Performance Edition). That's likely just be the starting price, though, and customers can expect it to escalate from there depending on features and additional creature comforts.