The First GTA 6 Trailer Is Confirmed As Rockstar Readies Its Big Reveal
Rockstar Games has finally broken its silence on the "next
Grand Theft Auto
" game. In a message posted to X (formerly Twitter), the developer confirmed a trailer is coming for what is widely assumed to be
Grand Theft Auto VI
, the next installment in the long-running franchise and the first major iteration since
Grand Theft Auto V
released over a decade ago.
To say it's been a long wait for the next installment in the immensely popular GTA series is an understatement. If not for
Grand Theft Auto Online
and polished
re-releases of GTA V
over the course of the past 10 years, there could have been pitchforks and torches by now. Instead of those, however, gamers have been able to bide their time through a steady stream of rumors and supposed leaks.
The most recent one claimed that Rockstar was on the cusp of unveiling GTA 6, perhaps this week. Rockstar may have been looking to get ahead of things by throwing the community a bone on social media.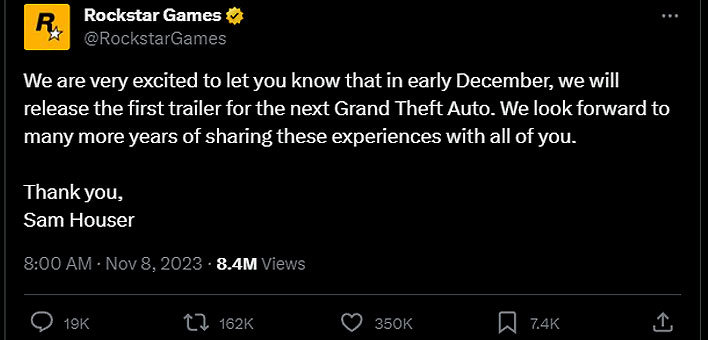 "We are very excited to let you know that in early December, we will release the first trailer for the next Grand Theft Auto [game]. We look forward to many more years of sharing these experiences with all of you," Rockstar Games President Sam Houser posted on X/Twitter.
While not an especially meaty bone, it gives GTA fans something to gnaw on as we head into the holiday season. Specifically, it's confirmation that another GTA game is coming, and more than that, we'll finally get to see the first glimpse of GTA 6 (or whatever it ends up being called) in just a matter of weeks. Houser's comment is in reply to another post by Rockstar Games saying that next month marks the developer's 25th anniversary.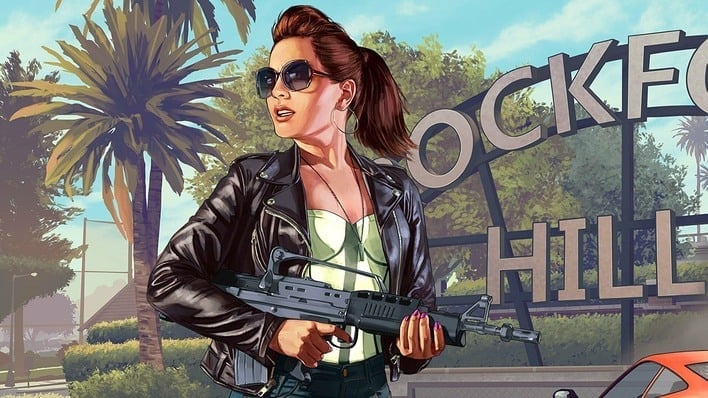 It will be interesting to see how much the developer reveals for what is easily one of the most anticipated games for one of the most popular game franchises of all time. Recent rumors suggest that
GTA 6
will feature
cutting-edge graphics
by way of a new version of the RAGE, the engine that drove
Red Dead Redemption 2
.
Latching on to previous leaks, gamers have also surmised that the
GTA 6
's
map will be huge
—perhaps even twice as large as
GTA 5
, if not even larger. It's also rumored that
GTA 6
will be the first game in the franchise to feature a
female protagonist
as part of a crime duo in the vein of Bonnie and Clyde.
Whatever the case, gamers are certainly excited for another GTA game, and so are investors—shares of Rockstar's parent company, Take-Two Interactive, shot up more than 9% in pre-market trading following confirmation of an upcoming trailer.