Far Cry 6 Is Available To Preorder With A Sweet Flame Thrower Bonus For The Collector's Edition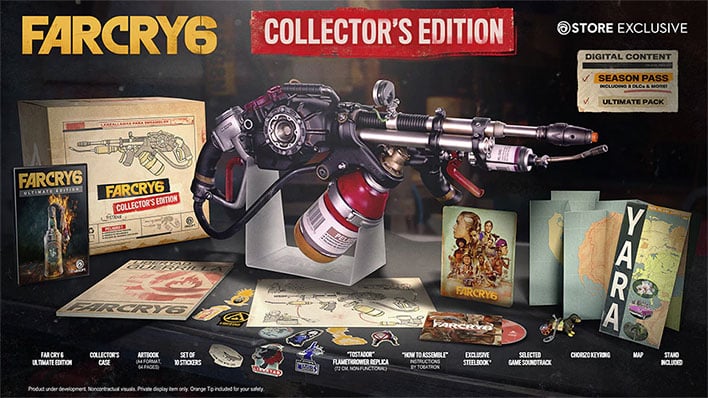 As much as I would like to own one, I do not see myself purchasing a flame thrower, now or ever. I imagine it's quite expensive, but aside from that, what if it unlocked an inner pyromaniac I had no idea was itching to get out? Yeah, it's best I don't go down that road. But a replica frame thrower? I'd totally be down for that. If you would be too, you can have one, when preordering the
Far Cry 6
Collector's Edition bundle.
There are some caveats. Let's start with the obvious—it doesn't actually spit fire (God, I hope not, anyway). The replica flame thrower is decorative piece only. Some assembly is also required. It's also expensive at $199.99, and exclusive to ordering the physical copy option from the Ubisoft Store.
That's a lot of coin, though it also comes with a bunch of extras. You get the game, of course, plus a Season Pass for DLC, a collector's case, an 64-page art book, a set of 10 stickers, the flame thrower and assembly instructions, an exclusive steelbook, a Chorizo keyring, a map, and a stand.
Reading between the lines, this means there will be a flame throwing in the game, which should be fun to play with (and safe, compared to a real life one). Solid move on
Ubisoft's
part.
Fortunately, you can preorder Far Cry 6 for much less than the Collector's Edition, if you don't care about all those extras. There are several versions to choose from. They include...
Far Cry 6 will feature actor Giancarlo Esposito from Breaking Bad fame (as Gus Fring) as the primary villain. In the game, he is raising his son Diego to one take the reins of his empire on Yara, a fictional Caribbean island inspired by Cuba. Ubisoft promises it will be "the largest Far Cry playground to date."
We can hardly wait. Barring any delays, Far Cry 6 will launch to PCs and consoles on February 18, 2021.