Refocused EVGA Announces 'Unbelievable' Z790 Raptor Lake Motherboards For Overclockers
You've almost certainly heard the
bombshell news
that EVGA is leaving the graphics card business entirely over a purported personal dispute with NVIDIA. The company insists that it isn't going anywhere despite graphics cards comprising some 78% of EVGA's revenue, at least for now. Almost as if to prove that point, EVGA is among the vendors showing off motherboards for Intel's
brand-new Z790 Raptor Lake
platform.
There are two boards as part of the announcement: the EVGA Z790 DARK K|NGP|N, and the EVGA Z790 Classified. They differ in the details, but both boards are radically different from most motherboards on the market: they feature CPU sockets rotated 90 degrees, repositioned memory slots to accommodate, and virtually all of the connectors are edge-mounted—including not only SATA and USB plugs but also ATX power, a pair of EPS12V connectors, and even at least one fan connector.
Other shared connectivity includes eight SATA ports, 2.5-Gigabit Ethernet, Wi-Fi 6E, Bluetooth 5.2, and 7.1 analog audio outputs. The K|NGP|N board gets an additional 10 GbE jack and three M.2 SSD slots, while the Classified model has a pair of USB Type-C ports onboard that support DisplayPort connectivity in addition to 20 Gbps USB4. "This board is unbelievable," says its namesake, Vince "K|NGP|N" Lucido.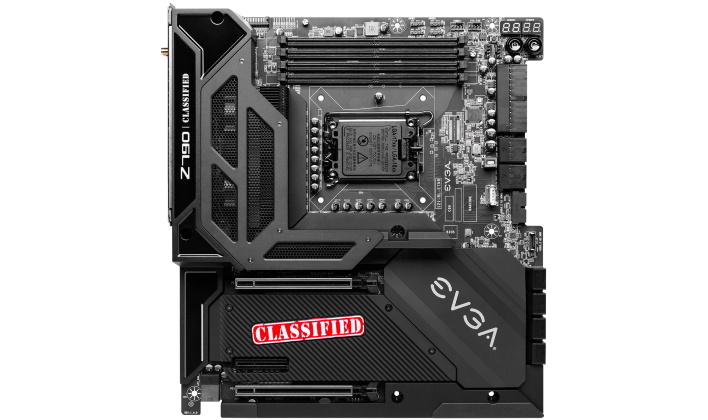 Of course, these overclocking oriented boards have onboard diagnostic readouts, power and reset buttons, as well as ridiculously overbuilt power delivery hardware. The more modest Classified model comes with a 19-phase VRM and a 12-layer PCB, while the top-end DARK K|NGP|N gets a 14-layer PCB and a 21-phase VRM that give the board what EVGA describes as "
excessive overclocking
support."
sign up for updates
if you absolutely want one as soon as they're available. Based on the feature set of these boards and the pre-order pricing of Z790 models that went up
on Newegg
today, we wouldn't expect them to be cheap.