Monster AMD EPYC 96-Core Zen 4 Genoa CPU Breaks Cover, Could Launch With Ryzen 7000
Enthusiasts and gamers are eagerly awaiting the
next generation
of Ryzen processors based on the Zen 4 architecture. However, server folks are really excited about Zen 4 too. AMD's EPYC "Genoa" family of processors are
looking to be
a big step up over the current "Milan" generation. Twitter leaker @yuuki_ans has
another picture
of what appears to be one of the new CPUs. According to them, the chips should be released at the same time as the new Ryzen processors.
You can see the leaked image of the upcoming enterprise processor above (click to enlarge). YuuKi has blocked out the serial number and other markings, but you can clearly see the model number: 9654. There's no reason to question that this is final packaging, and the leaker specifically says that the "EPYC Genoa official version is ready."
While it isn't expected to be the top SKU—that honor will supposedly go to the EPYC 9664 with higher clocks than this model—this is still a 96-core, 192-thread CPU with 480MB of L2+L3 cache. That's thanks to having fully twelve Core Complex Dice (CCDs), each with eight Zen 4 CPU cores and 32MB of L3 cache. Zen 4
doubles the L2 cache
compared to Zen 3, giving it 1MB per core.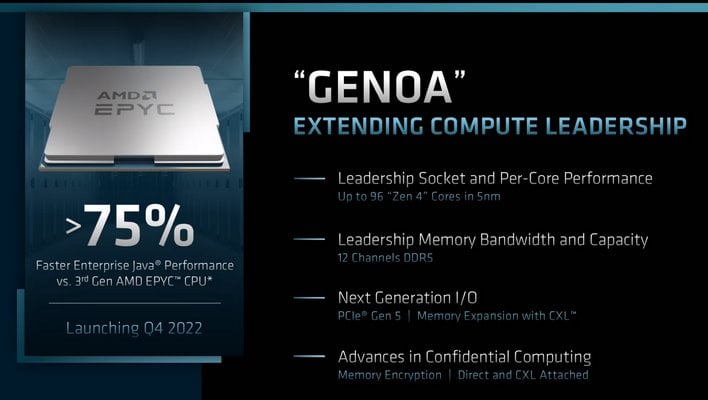 We don't know about Zen 4's performance firsthand yet, but there is no question that this chip will be an absolute beast when it releases. If
@yuuki_ans
is correct, that could be quite soon indeed. The leaker says that Genoa "should be" released with Ryzen 7000, and the
best guess
for when those parts will be released is in mid-September.
With that said, these are not enthusiast processors, so you won't find them behind glass in Micro Center. Instead, it will take a few months before server vendors complete all of the necessary preparation and validation to start shipping these CPUs. Still, if AMD can launch new desktop and server CPUs on the same day, then we are truly a far cry from the struggling-to-execute company that AMD was in the 2010s.