Epic Leak Highlights All The Free Games That Are Unlocking This Week
Just as it had done last year, Epic Games is celebrating the holidays by giving away a free game through the Epic Games Store for the second half of December. The 15 days of free games got underway on December 16 and will continue through December 30, so there are still four more titles you'll be able to claim at no cost. We might know what they are, courtesy of a leak.

If the leak on Reddit proves to be true, the next four titles will be Mages of Mystralia, Moving Out, Salt and Sanctuary, and a Tomb Raider trilogy. Also, depending on when you are reading this, there could still be time to claim Control, arguably the highlight of the free games giveaway. A new free title unlocks each day at 11am ET (8pm PT).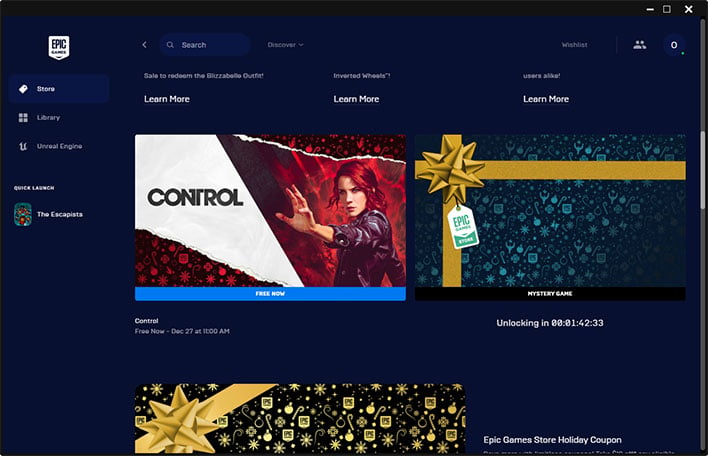 You obviously need an Epic Games account to claim the titles. Once you add them to your library, however, they are yours to keep and play forever. Here's a look at the
full list of free games
as part of the holiday giveaway, including the next four that have not been confirmed...
Confirmed
December 16: Shenmue III
December 17: Neon Abyss
December 18: Remnant from the Ashes
December 19: Vanishing of Ethan Carter
December 20: Loop Hero
December 21: Second Extinction
December 22: Mutant Year Zero: Road to Eden
December 23: Vampyr
December 24: Pathfinder Kingmaker - Enhanced Special Edition
December 25: Prey
December 26: Control
Unconfirmed
December 27: Mages of Mystralia
December 28: Moving Out
December 29: Salt and Sanctuary
December 30: Tomb Raider trilogy
In addition to Control, other highlights among the bunch include Shenmue III, Vampyr, and Prey. It will be interesting to see if Epic Games ends the promotion with a bang by serving up Tomb Raider titles on December 30, as the leak suggests.
As a reminder, the Epic Games Store is also having a holiday sale with a whole bunch of discounted titles. And every account has a $10 off coupon for eligible purchases of $14.99 or more. Even better, the coupon renews itself after every eligible transaction, so you can knock $10 off your tally on each subsequent purchase.
The
Steam Winter Sale
is still going on as well, so now is the time to bolster your games catalog without paying full price.