This eMachines Sleeper PC Is Ready To Retro Rumble With A GeForce RTX 4090 Under The Hood
Remember when the eMachines brand permeated the PC space with value priced systems and a 'Never Obsolete' upgrade program? If that's before your time, then take our word for it that eMachines had a big presence in the late 1990s and early 2000s. Harkening back to that era, the latest episode of GeForce Garage (NVIDIA's modding channel) sees an eMachines eMonster 500a gaming PC from 1999 get a new lease on life with modern hardware, including a
GeForce RTX 4090
graphics card.
This is the very definition of a
sleeper PC
. While it took some modding to accommodate all the modern hardware, you wouldn't know this thing is packing some serious PC horsepower unless you peeked underneath its hood. On the outside, GeForce Garage host Dwight Lackmann retained the original beige design language, complete with dated stickers on the front.
Lackmann says this is was actually his first-ever sleeper build, and initially he wanted to go with a Compaq Presario with a pop-out CD holder on the front, because that's what he owned when he first got into PC gaming. However, he pivoted to an eMachines PC to keep the brand's Never Obsolete promise from yesteryear alive. At the time, customers could pay $99 every two years to upgrade to the latest hardware.
For the CPU, Lackmann opted for a 13th Gen Intel Core i7-13700K Raptor Lake processor. Why not go with the flagship
Core i9-13900K
? Simply put, he was concerned that heat dissipation would be an issue.
Lackmann also outfitted the sleeper rig with an ASUS ROG Strix B660-I motherboard, 32GB of G.Skill TridentZ RGB DDR5-6400 RAM, 2TB Western Digital SN850 SSD, and of course the GeForce RTX 4090, with an ASUS ROG Strix 1000W power supply providing the necessary juice. There's also a liquid cooling element to this build as well, with custom parts from EKWB for the CPU.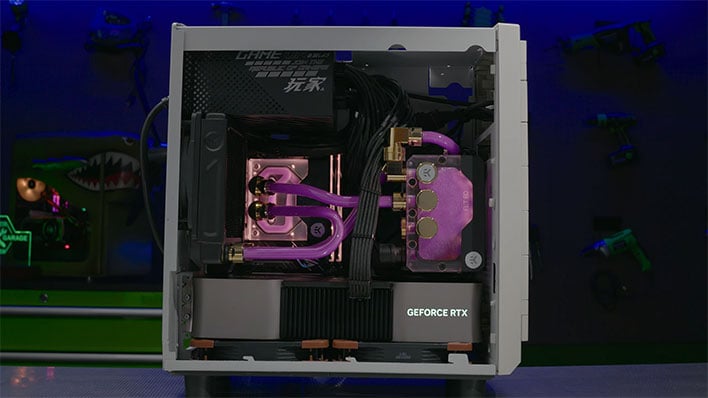 Cramming all this hardware inside required some modifications to the chassis. He drilled a couple of 120mm holes—one of the back and one on the side—to improve the airflow, and also attempted to drill out a couple of larger 140mm holes on the bottom. Unfortunately, the bottom of the chassis didn't survive the mod, but Lackmann addressed this by 3D printing a custom base and feet.

Some other minor mods aside, Lackmann says the the mini-ITX motherboard and GeForce RTX 4090 "fit in perfectly." It also looks gorgeous on the inside with a gold an purple theme.
In the end, an eMachines rig from 1999 was transformed into a modern gaming PC powerhouse capable of delivering ray-traced visuals and playing the latest titles at 4K. According to Lackmann, he was getting around 110 frames per second in
Portal with RTX
at 4K and max settings, 120 frames per second in
Warhammer 40K Darktide
at 4K with ultra settings and ray tracing turned on, and 120 frames per second in
The Witcher 3: Wild Hunt
with the latest
4.0 ray tracing patch
, also running at 4K with the eye-candy dialed up to ultra.
For anyone wondering what happened to the eMachines brand, it changed hands a few times over the years, most recently to Acer (via its acquisition of Gateway), which retired it 10 years ago this month. In that respect, this is a fitting tribute to the 10-year anniversary of the eMachines brand being discontinued.