Diablo IV Needed Just 5 Days To Cross $666M In Sales, Server Issues Be Damned
Even though it's barely been out a week,
Diablo IV
is already one hell of a success. In fact, four days of early access was all it took for the latest installment in the popular franchise to become
Blizzard's fastest-selling game
of all time. Following up on announcing that achievement, Blizzard has offered up a few more impressive figures, highlighted by
Diablo IV
crossing a devilish $666 million in sell-through sales in a mere five days. By our math that's $133.2 million per day.
To put that $666 million figure into perspective,
Spider-Man: Across the Spider-Verse
had the biggest opening weekend at the box office last week with $120.5 million in domestic sales, and $208.6 million globally. It ranks as the second-best opening weekend this year, trailing only
The Super Mario Bros. Movie
, which raked in $204.6 million domestically and $377 million globally. It went on to cross $1 billion in just under four weeks.
The success of
Diablo IV
and how its opening week compares to the biggest films of the year underscores the fact that gaming is the biggest entertainment industry on the planet. A somewhat recent report by SuperData Research said the global gaming market reached a value of $159.3 billion in 2020, compared to $41.7 billion for the movie industry and $19.1 billion for the music industry.
"On behalf of Blizzard, we want to thank the millions of players around the world who are immersing themselves in Diablo IV," said Mike Ybarra, President of Blizzard Entertainment. "Diablo IV is a result of our incredible teams working together to craft and support genre-defining games, build legendary worlds, and inspire memories that will last a lifetime. We're humbled by the response, proud of the team, and remain committed to listening to our players and ensuring Diablo continues to exceed expectations for years to come."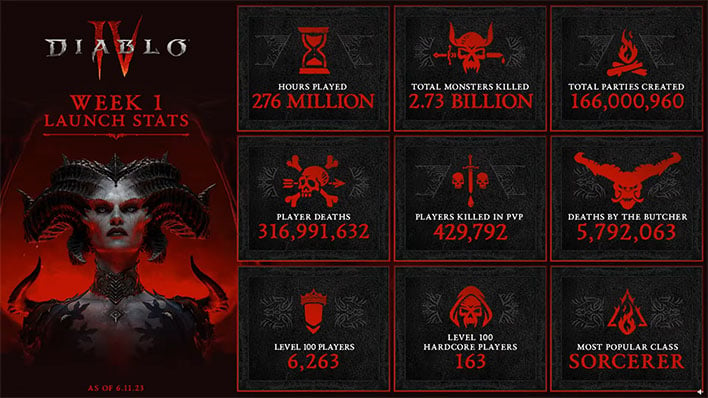 Blizzard also shared some interesting non-monetary stats related to Diablo IV, some of which are shown above. Since opening up early access on June 1, players have logged 276 million hours, which works out to more than 30,000 years. That's also enough time to watch everything posted to YouTube, with 13,500 years to spare.
Since launch, players have slaughtered 276 billion demons, which is nearly 35 times the global population (of humans). There have been nearly 317 million player deaths, including 5.8 million that came by way of The Butcher. And outside of actually playing Diablo IV, the game ranked as the top viewed title on Twitch from June 1 through June 9, shattering Blizzard's previous records for hours streamed and watched over a similar period.
Of course, the launch hasn't been without its hiccups. Repeated
server issues
prompted Blizzard's Rod Fergusson take to Twitter and "apologize again for the downtime," noting that "we continue to hit record highs for concurrency." That's to be expected to some extent, given the immense popularity of the game.
At this hellishly-fast pace, it won't be long before
Diablo IV's
$666 million in sales
turns into $1 billion. As a point or reference, it took 10 days for Activision's
Call of Duty: Modern Warfare II
to
cross the $1 billion mark
last year.