Dell Precision 5680 Mobile Workstation Flexes i9-13900H And RTX 5000 Firepower
Dell is now accepting orders for its recently-unveiled Precision 5680, a compact mobile workstation that packs an "amazing punch." Exactly how amazing depends entirely on how you configure the machine, but fully loaded, you're looking at a potent pairing of Intel's 13th Gen
Core i9-13900H
vPro processor based on Raptor Lake and NVIDIA's RTX 5000 Ada GPU based on
Ada Lovelace
.
Tamer configs are available, of course, starting with a Core i5-13600H
vPro processor
that's also from Intel's Raptor Lake stack with integrated graphics. If going that route, the current web price sits at $2,788.63. That includes a savings of $1,503.77 over the 'estimated value' for a config that also comes with a single 16GB DDR5-6400 memory module and a 256GB M.2 PCIe 4.0 SSD,
A single memory stick means you're missing out on dual-channel bandwidth and seems like an odd choice, though we suppose the justification is that it leaves a second SO-DIMM slot open to add another 16GB module. Alternatively, you can bump up to 32GB (2x16GB) of DDR5-6000 right off the bat for an additional $194.90, or 64GB (2x32GB) for $519.73.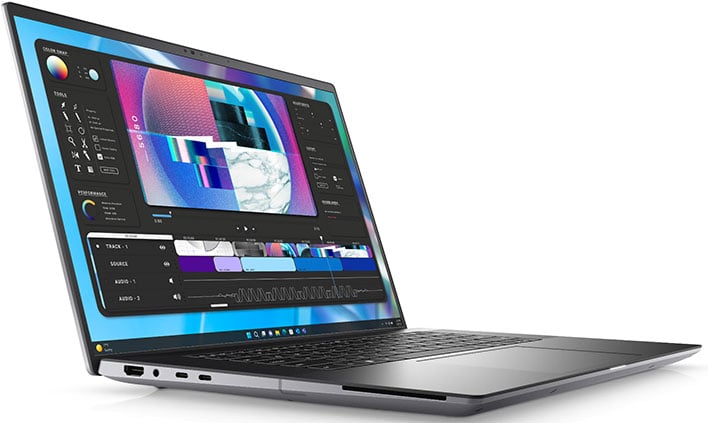 There's quite a bit of flexibility in the foundation, with Dell offering four CPU options, half a dozen GPU options (including five discrete GPUs), three memory options, and seven storage options including up to a 4TB NVMe SSD.
In short, you can pack a lot of muscle into this 16-inch mobile workstation, depending on your budget. As for the display, users can select a non-touch LCD screen with a 1920x1200 resolution and 60Hz refresh rate, or an OLED panel with a 3840x2400 resolution, 60Hz refresh rate, and touch support.
Cooling is one of the trickiest parts of molding a laptop, particularly a high-end one with discrete graphics. To that end, Dell says it's employing patented Dual Opposite Outlet fan technology to keep temps in check.
We haven't reviewed this model (yet), but if you're interested, the
Precision 5680
is available now.