Dell And NVIDIA Join Forces On Major Generative AI Push In The Enterprise
The
generative AI genie
is out of the bottle and not going back any time soon. These
developments are transforming
the ways companies do business, but those who choose to implement it are faced with significant decisions to be made. For example, employees may inadvertently
leak trade secrets
to cloud-hosted AI models, but building sufficient infrastructure on-premises can be daunting. To help ease these matters,
Dell Technologies
has collaborated with
NVIDIA
to offer a suite of products and services that it says can power transformative business outcomes with GenAI.
Dell says its Generative AI Solutions consist of Precision workstations, PowerEdge servers, PowerScale storage, and other hardware with pre-tested configurations for generative AI workloads plus Dell Professional Services to help its customers navigate how to adopt generative AI efficiently. The use cases for this technology are far reaching, especially in the enterprise space. "Our customers are looking to use generative AI in every aspect of their business, from monitoring agent behavior to detecting fraud," said James Laird, chief operating officer, Intelligent Voice. "Recent advances in AI combined with the power of Dell's AI solutions allows us to quickly build, test and deploy high-quality models at the speed our customers require."
Dell Precision Workstations For Local GenAI Development
Along with this push, Dell is announcing new Precision workstation configurations that will be available soon. The refreshed Precision 7960,
7865
, and 5860 workstations will offer NVIDIA RTX 6000
Ada Generation GPUs
in a tower formfactor. The Precision 7960 in particular offers support for up to four of these cards to deliver the most scalability. Dell says the RTX 6000 Ada Generation cards allow AI software frameworks to be run 80% faster than the prior generation Ampere cards.
"Generative AI can help every enterprise transform its data into intelligent applications that enable them to solve complex business challenges," said Manuvir Das, vice president, Enterprise Computing, NVIDIA. "Dell Technologies and NVIDIA are building on our long-standing relationship to enable organizations to harness this capability to better serve their customers, more fully support their employees and fuel innovation across their operations."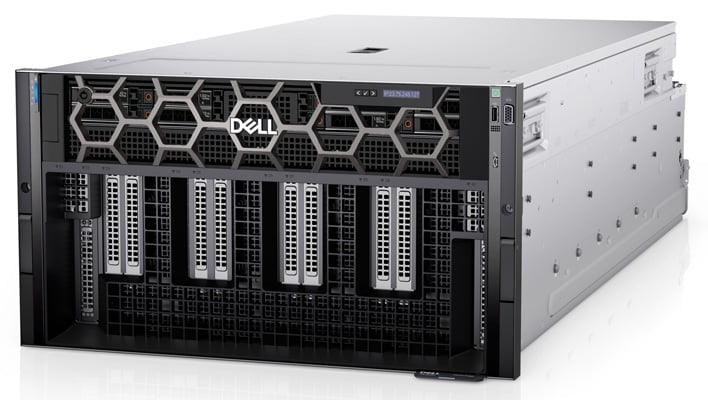 Dell PowerEdge Servers For Scale Out AI Deployments
For customers with larger generative AI appetites, or to fully scale out a deployment, Dell's PowerEdge servers can be equipped with NVIDIA Tensor Core GPUs, up to and including the
NVIDIA H100
. This hardware is matched with NVIDIA AI Enterprise software and
NVIDIA NeMo
end-to-end framework to make the most of an on-premises deployment with the ease-of-use of a cloud management experience.
"We decided to select Dell PowerEdge XE9680 servers equipped with NVIDIA H100 GPUs, which are optimized for generative AI applications," said Daisuke Takahashi, solution architect of CIU, CyberAgent. "In addition, we value the ease of use of the Dell iDRAC management tool for secure local and remote server management."
Dell Validated Design for Generative AI
, which encompasses the PowerEdge server configurations, is globally available now. The Dell Precision workstations featuring NVIDIA RTX 6000 Ada Generation GPUs will be available soon, targeting early August. The Dell Optimizer application is also rolling out an adaptive workload to minimize impact on battery runtime to mobile workstations starting on August 30th.