NVIDIA Chases Trillion Dollar Market Cap After A Stellar Quarter And AI Outlook
NVIDIA's stock price is surging (
again
) in pre-market trading hours in reaction to the company posting its latest earnings report and future outlook. For NVIDIA's fiscal first quarter for the three-month period ended April 30, 2023, the GPU firm's revenue hit $7.19 billion, which is down 13 percent from a year ago but up 19 percent from the previous quarter. Its net income, meanwhile, soared to $2.04 billion. That's a 26 percent year-over-year gain, and a huge 44 percent sequential jump.
As has been the case for over a year now, NVIDIA's biggest earner is its data center business, not gaming. Data center revenue tallied $4.28 billion for the quarter, a gain of 18 percent from the previous quarter and 14 percent from last year.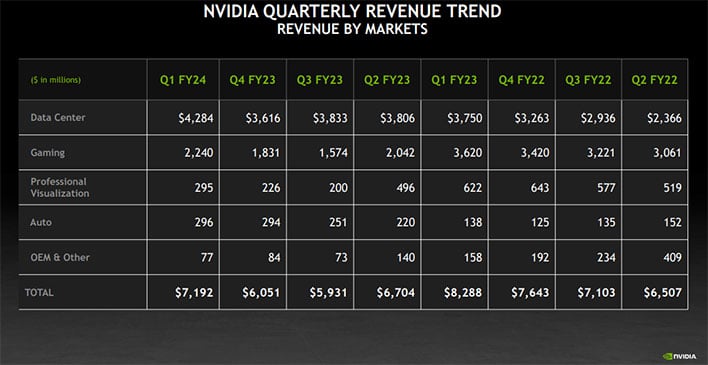 Meanwhile, gaming revenue fell 38 percent year-over-year to $2.24 billion. That's actually up 22 percent from the previous quarter and it still ranks as NVIDIA's second-largest earner, but it's a little more than half of what the data center pulled in. It will be interesting to see if that kind of split maintains now that NVIDIA is targeting mainstream gamers with its
GeForce RTX 4060 Ti
starting at $399, and upcoming
non-TI variant priced at $299
.
NVIDIA's remaining business divisions, including professional visualization, automotive, and OEM collectively added $668 billion to the pile compared to $604 billion in the previous quarter and $918 billion the same quarter a year ago.
"The computer industry is going through two simultaneous transitions—accelerated computing and generative AI," said Jensen Huang, founder and CEO of NVIDIA. "A trillion dollars of installed global data center infrastructure will transition from general purpose to accelerated computing as companies race to apply generative AI into every product, service and business process."
"Our entire data center family of products H100, Grace CPU, Grace Hopper Superchip, NVLink, Quantum 400 InfiniBand and BlueField-3 DPU is in production. We are significantly increasing our supply to meet surging demand for them," Jensen added.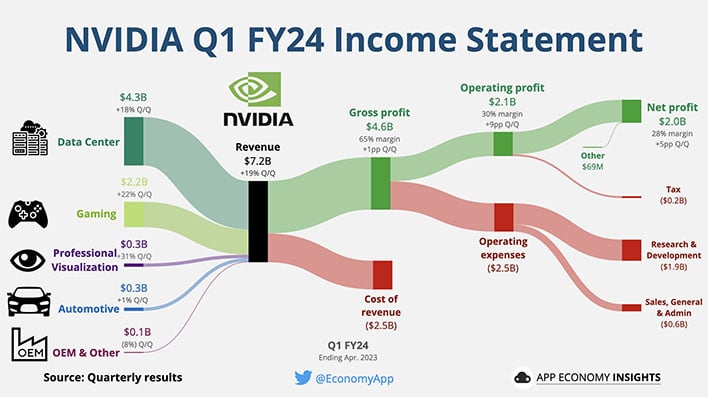 Image Source: @EconomyApp
A trillion dollars is obviously a lot of money and NVIDIA has positioned itself to claim a significant chunk of it going forward, after becoming a data center-first company (as visualized in the nifty infographic above). Likewise, NVIDIA is kicking at the door of becoming the first chip firm with a trillion-dollar market cap, based on after-hours stock activity. By our math, its market cap is hovering around $940 billion. Depending on how things go once the market opens today, NVIDIA could get closer or even surpass the $1 trillion threshold (or it could go in the opposite direction if the hype dies down).

A big part of the reason why is NVIDIA's fiscal second-quarter outlook—it expects revenue to
balloon to $11 billion
, which would represent a massive 52.9 percent increase sequentially, and a 64 percent gain year-over-year. Plus, it's hard to ignore all the attention that AI technologies have demanded recently, with big tech riding a wave of interest created by
ChatGPT
.