Hackers Are Exploiting This Microsoft Outlook Privilege Escalation Security Flaw
Microsoft recently patched a zero-click privilege escalation vulnerability within Microsoft Outlook, tracked as
CVE-2023-2339
and rated a 9.8/10 on the Common Vulnerability Scoring System (CVSS). Left unchecked, this vulnerability could allow a threat actor to capture sensitive information from any user account that receives the malicious email and impersonate that user.
The vulnerability lies in a feature of Microsoft Outlook which allows a custom sound file to be loaded for notifications. Specifically, the sound file does not have to be local on the machine but can reside on a remote file share accessible via a Universal Naming Convention (UNC) path.
An attacker can craft a special email, typically containing a malicious calendar or meeting invite, which also forces the victim's computer to load a remotely hosted notification sound from an SMB share the attacker controls. The victim's computer automatically tries to authenticate via
New Technology LAN Manager
(NTLM), exposing hashed credentials to attacker. The attacker can then either attempt to recover the credentials via cracking, or else use them in a replay attack to authenticate with other services.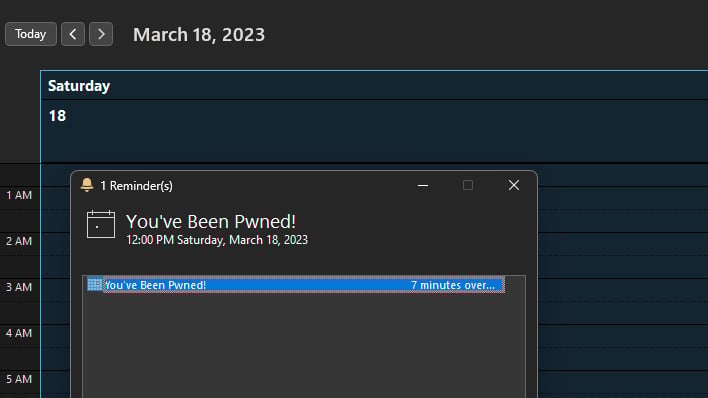 Critically, this process requires no interaction from the victim. Outlook automatically initiates the compromised remote file share as soon as the malicious message arrives in the victim's inbox.
To mitigate this, users or system administrators will need to install the necessary Microsoft Outlook security update or restrict NTLM's use for authentication. Further, organizations could also block outbound SMB traffic over port 445. This prevents the remote file sharing authentication attempt from occurring over the Internet. Microsoft has also released an audit
tool on GitHub
to see if your organization has been affected.
TrustedSec
reports
that Russian military intelligence has exploited this vulnerability for about a year, so patch now to stay secure.