You Can Cram 21 SSDs Into This Apex Card For 168TB Of Insanely-Fast Storage
Utah-based PCIe add-in-card developer Apex Storage has launched its maiden product, and it is pleasingly ambitious. The Apex Storage X21, earns its suffix for its ability to cram 21 M.2
NVMe SSDs
into a single expansion slot. This add-in-card (AIC) thus facilitates the addition of up to 168TB of storage (using 8TB M.2 2280 sticks), and provides transfer speeds of up to 31GB/s.
The Apex Storage X21 is the only product on the firm's website at this time. While we noticed some of the internal links and pages were still under construction, we are happy that there are tech specs and several images of the X21 to be able to understand the product further.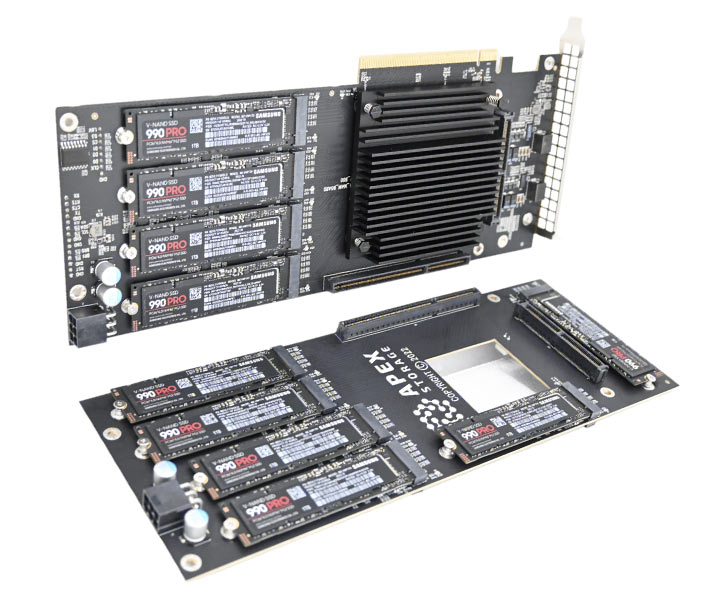 Despite
PCIe 5.0
becoming established in the consumer and professional markets, Apex Storage has stuck with
PCIe 4.0 SSDs
for the X21 AIC. The card is designed to fit into a motherboard's PCIe 4.0 x16 expansion slot to work its storage magic in your system. It is only one slot thick, but it is a full height card, with a sandwich structure, and a smidgen under 275mm in length. Ten M.2 2280 drives can fit inside the AIC sandwich design, while there is room for 11 to reside on its exterior.
Let's have a look over the key features and claimed performance:
Apex Storage X21 key features
Host 21 x M.2 Gen 4 NVMe SSDs totally 168TB+ storage per card
31GB/s read/write speeds
Industry leading IOPS
100 PCIe 4.0 lanes
Full UEFI / secure boot support
Windows / Windows Server / Linux RAID support
A standard PCIe slot can deliver 75W to the card it houses, but due to the potential power demands of a fully populated 21x M.2 NVMe SSD card, Apex has fitted a pair of 6-pin power connectors. This provision pushes the potential max power to 225W, but the specs reveal that a fully populated and active card will consume something like 95W. Most of the finned heatsink on the AIC's controller is obscured within the sandwich. This design might put pressure on the relatively small looking
passive cooling
solution, and Apex says the chassis should have a minimum 400LFM airflow.
The 100 PCIe 4.0 lanes implies the card incorporates a PCIe Switch. This allows each of the drives to logically connect back to the CPU, but the card is overall bound by the 16x PCIe 4 interface for concurrent transfers.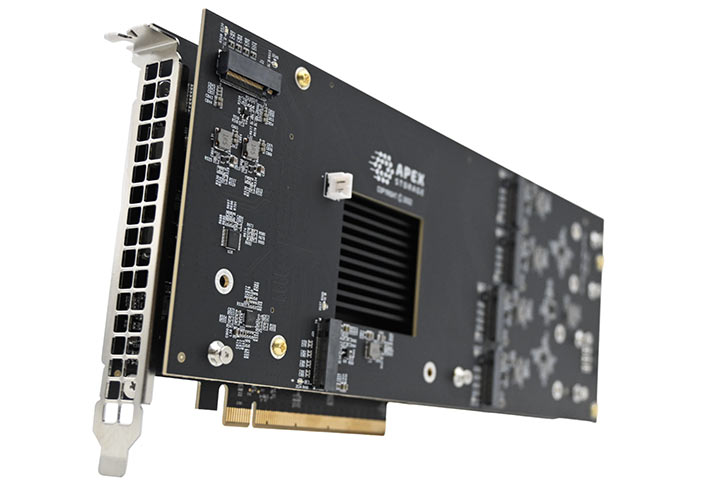 Having one of these Apex Storage X21 cards in your system might seem like a lot of storage already. Above we mentioned that a single card can offer 168TB storage, and 31GB/s transfers, and the IOPS are as high as 7.5 million. Interestingly, Apex also shares performance figures for multiple AICs, with users stuffing their systems able to boost transfers as high as 107GB/s, and IOPS as high as 20 million+.

Lastly,
Apex reveals
that the X21 isn't fussy with regard to SSD choice. Users are free to pick and choose between QLC, TLC, MLC SSDs from "all major brands," as well as
Intel Optane SSDs
. Going forward, Apex Storage says that the X21 will be able to support 336TB per card once 16TB M.2 SSDs start to hit the market.
We don't have pricing or availability information for the Apex Storage X21 at the time of writing.