Lawmakers Rake Costco Over The Coals For Selling Government-Banned Chinese Spy Gear
Over the past few years, there has been quite a concern regarding
Chinese-manufactured Internet of Things
devices that could be spying on unwitting American consumers. This was the impetus behind a 2022 Federal Communications Commission ban on telecommunications and video surveillance equipment that was deemed a national security threat. While this should have solved the problem, it appears Costco was still selling some of this banned equipment and is now being questioned for it.
Congress members Christopher Smith and Jeff Merkley of the Congressional-Executive Commission on China sent a letter on October 31st questioning "Costco's sale of Lorex security products, which are linked directly to the Chinese company Dahua, whose products are restricted for all in the U.S. by the Federal Communications Commission (FCC)."
Beyond the
FCC ban
, the letter explains that Lorex products are also a security risk for U.S. customers as "critical vulnerabilities are regularly discovered in Dahua products, including unauthorized viewing of video and audio feeds and archives, as well as unauthorized network access and remote tampering with settings."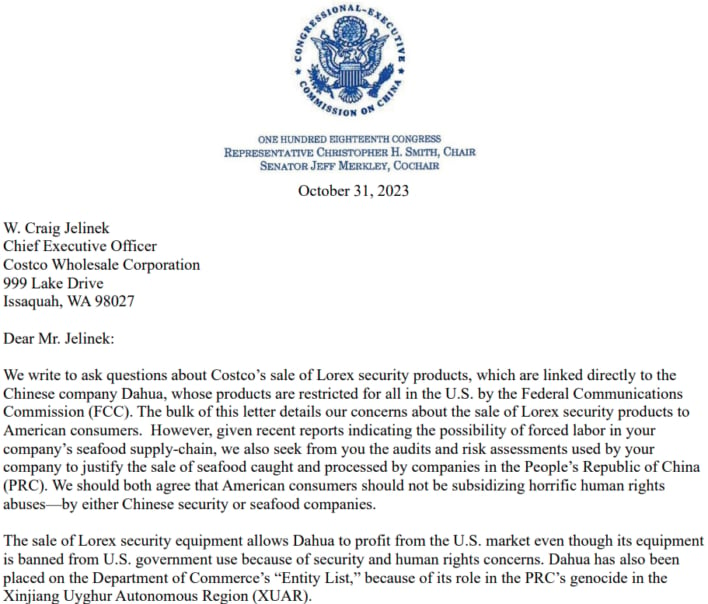 The
congress members also note (PDF)
that Dahua has been linked to the genocide of the Uyghurs and "other predominately Muslim minorities," occurring at the hands of the People's Republic of China in the Xinjiang Uyghur Autonomous Region. The letter explains that Dahua developed facial recognition technology to identify ethnic Uyghur faces, among other human rights violations. Subsequently, other companies like Best Buy, Home Depot, and Lowe's have stopped the sale of Lorex products for "human rights and ethical sourcing concerns."
Similarly, there were concerns raised about forced labor being used in Costco's supply chain for seafood. Research from Outlaw Oceans Project was deemed "compelling and implicates the supply-chains of Costco and many other retailers and grocery chains in forced labor, including of ethnic Uyghurs and North Koreans." As such, the letter requests that Costco respond to several questions to "help the Commission's oversight of U.S. laws and national security."
We will have to see what kind of report Costco comes back with, but seeing the company evidently skirt best practices is ignorant at best and outright malicious at worst. However, how else are you going to keep your $1.50 hotdog if not for sketchy violations?
Editor's Note: Ask Sam's Club, where you can also get cheap hot dogs (and pizza).