Corsair Unveils A Mechanical Keyboard With Magnetic Hall Switches To Fine Tune Actuation
Corsair has unveiled yet another
K70
mechanical gaming keyboard, but this one possesses a unique trait that none of its predecessors have. The new keyboard, known as the K70 MAX, features a brand-new magnetic Corsair-made switch that lets the user control the switch's behavior at will.
Thanks to its magnetic capabilities, Corsair's magnetic MGX switch allows gamers to change each key's actuation distance to their liking. The actuation distance can be changed from 3.6mm to just 0.4mm and is adjustable in 0.1mm increments. As a result, you can have a switch that behaves like a
Cherry MX
Red switch with longer actuation time, or a MX low profile Speed switch with a much faster actuation time, depending on your preference. The maximum and minimum actuation distances are also significantly greater than most other mechanical switches on the market, making the K70 MAX extremely flexible and adaptable.
Corsair has also implemented two new features into its MGX switches that enhances their functionality. The first is a new dual-point actuation mode that allows users to assign two commands to one key, via two actuation points. If you press on the key lightly, it will trigger one command, if you press down on the key all the way, it will trigger another. For gamers, this can be great for controlling a character's movement in first person shooters, one actuation point can be set for walking, while the other can be set for running or dodging.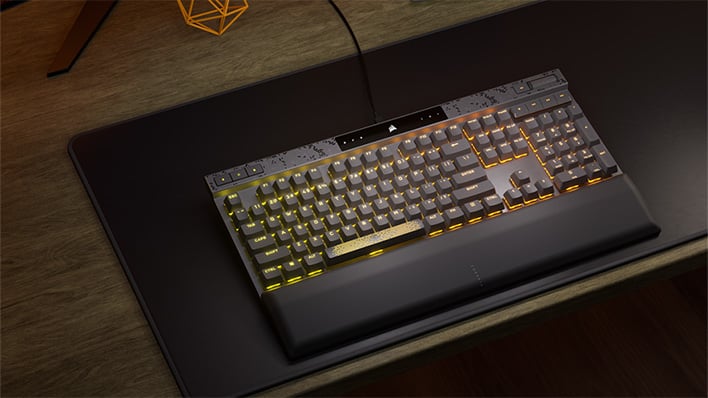 Another ability Corsair has implemented into the MGX switch is known as "Rapid Trigger Mode." This mode resets depressed keys immediately right when they start traveling upward, giving gamers additional responsiveness to input changes.
Besides the new switches, the K70 MAX also features an 8000Hz polling rate for even more responsiveness, and a detachable USB Type-C cable for easier transportation. The keyboard comes with two-layers of sound dampening material to reduce the noise of the switches, helpful for prolonged typing sessions. For gamers, there is a fancy feature called the "Tournament Switch" that disables macros and the keyboard's backlight to improve the keyboard's performance and remove distractions.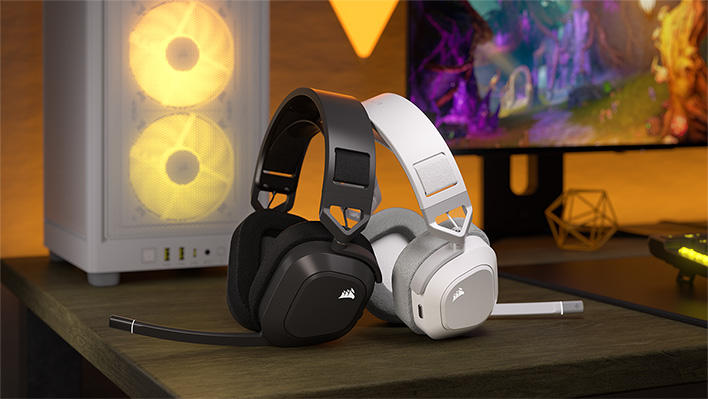 Corsair has also unveiled a new gaming headset called the HS80 max. The most unique ability of this headset is its dual-wireless connectivity support, featuring both Bluetooth and 2.4GHz wireless connectivity. For people who use different audio gear with their devices, this allows you to use just a single headset to connect to multiple devices. The HS80 Max also comes with Dolby Atmos support, and an omni-directional microphone that Corsair says is optimal for live-streams and broadcasting. Based on the images, the unit will come in black and white colors, and features a super comfy floating headband and aluminum reinforced construction.
The new K70 MAX and HS80 MAX are
both available
right now, priced at $229.99 and $179.99 respectively.