Corsair's Scimitar Elite Wireless Mouse Brings Wire-Free Gaming Bliss To MMO Fans
The first in Corsair's lineage of Scimitar gaming mice came out eight years ago and made a splash with a bevy of buttons for fans of massively multiplayer online (MMO) titles like World of Warcraft. The rodent has evolved over time, now culminating in the new Scimitar Elite Wireless, the first rodent in the Scimitar family to shed its tail for cord-free gaming.
On the surface, the Scimitar Elite Wireless is, as its name implies, a wireless version of the Scimitar RGB Elite that came out in 2020. You can use it via Bluetooth, though serious gamers will want to take advantage of the included 2.4GHz dongle to tap into Corsair's Slipstream Wireless technology, which promises a hyper-fast latency of less than 1ms and up to a 2,000Hz polling rate. That's basically wired performance in a wireless package.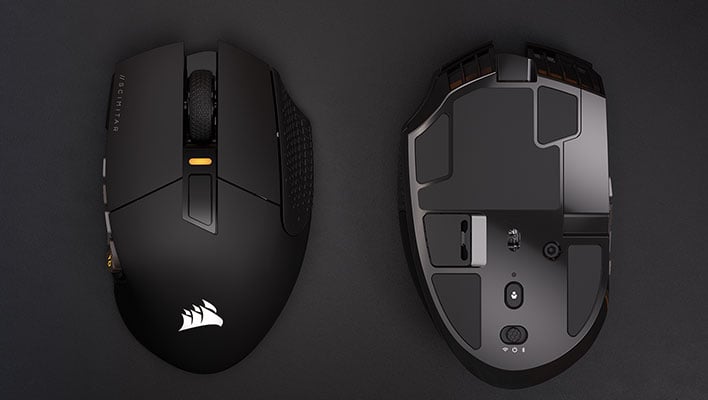 Going wireless is obviously one of the top selling points, but it's not the only evolutionary trait that separates it from the previous iteration. Corsair upgraded the guts from a custom PixArt PMW3391 sensor with a native 18,000 DPI to an even more sensitive Marksman sensor (also based on PixArt) capable of going up to a 26,000 DPI just like the wireless version of Corsair's
Sabre RGB Pro
mouse. That's overkill for what you might need for competitive gaming, but hey, it's better to have more than less, right?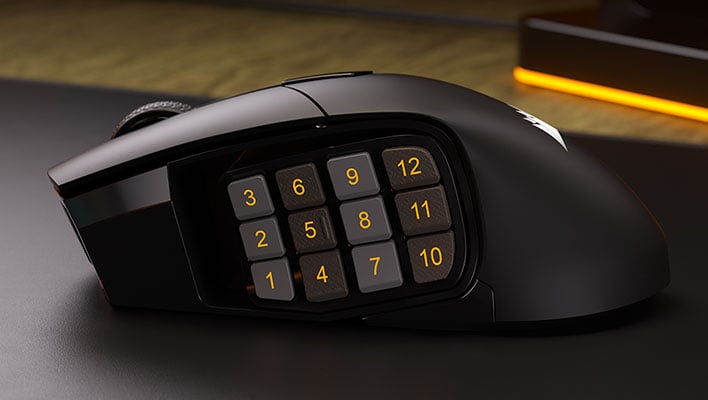 The other major selling point is the number of buttons. Corsair equipped the Scimitar Elite Wireless with 16 fully programmable buttons, including a dozen thumb buttons that are nestled in a patented key slider side panel. This allows you to reposition the side buttons (forward or backward) for a better fit and easier access.
Corsair lists the weight at around 114 grams (without the cable attached), so it's not going after any lightweight records. It comes with a 6-foot USB-C to USB-A cable to charge (or to use in wired mode, if you prefer). Corsair claims you can get up to 120 hours of battery life with the RGB lighting turned off, which you can extend to150 hours in Bluetooth mode. A full recharge takes just 90 minutes.