Corsair Unveils MP700 PCIe 5 SSD For High-Octane Gaming PCs At A Blistering 10GB/S
So now that you've built yourself a fancy gaming PC around Intel's
Raptor Lake
or AMD's
Zen 4 platform
, you might find yourself wondering where the heck all the Gen 5 solid state drives are hiding out. After all, having all that extra PCIe throughput (2x that of PCIe 4.0) was one of the selling points, and that's even true for Alder Lake. Well, Corsair has entered the chat.
Corsair's freshly-minted MP700 SSD stands almost by itself in PCIe 5.0 territory for storage. Sure, there have been a handful of announcements, demos, and teases along the way, but the only other model we've found that's actually available to buy is a lone 2TB listing on Newegg for
MSI's M570
. That sucker costs $349.99
and
it's on backorder.
In contrast, Corsair's MP700 in 2TB form is available from Corsair's webstore for $289.99. Still not cheap, especially compared to even the fastest PCIe 4.0 models (Corsair's 1TB MP600 Pro LPX with heatspreader sells for
$82.99 on Amazon
), but it's $60 less than the next available option. Also, Corsair is offering the MP700 in a 1TB capacity for $189.99.

A premium for PCIe 5.0 speeds is inevitable. But at least now there's an option to wade into PCIe 5.0 waters for under $200.
Corsair is offering the MP700 in the standard M.2 2280 form factor. It combines Micron's 232-layer triple-level cell (TLC) NAND flash memory chips with
Phison's E26 controller
, a combination that yields up to 10,000MB/s (10GB/s) of sequential read and write performance on the 2TB model. It also boasts up to 1.7 million IOPS for 4K random reads and 1.5 million IOPS for 4K random writes.
Regarding the 1TB model, sequential reads and writes land at 9,500MB/s (9.5GB/s) and 8,500MB/s (8.5GB/s), respectively, according to Corsair. Likewise, Corsair rates the 4K random reads at up to 1.6 million IOPS and the 4K random reads at up to 1.3 million IOPS.

All of those speeds come with a caveat.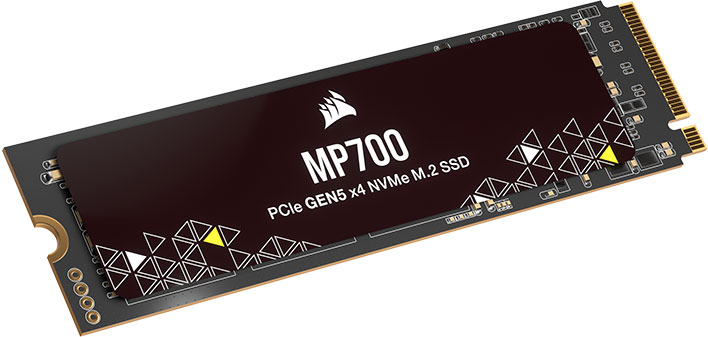 "To achieve its optimal performance, the MP700 requires additional cooling, with users able to choose between using their motherboard's integrated M.2 cooling system, or an aftermarket M.2 SSD cooler such as the Corsair Hydro X Series XM2 Water Block. This water block fits easily into your custom cooling loop, delivering top-of-the-line cooling and performance while virtually eliminating throughput throttling," Corsair explains.
Heat is the enemy of many electronics and that includes SSDs (notably the controller hardware). The toastier they get, the quicker they are to throttle performance. We'll have to wait until we have a chance to test one ourselves to see how these drives actually fare in the real world, but suffice to say, you'll want to make sure you've addressed any cooling issues with your PC before taking the plunge. That's generally true of any high-performance SSD, though, not just this one.