Closeup Shots Of SpaceX's Starship Rocket Launch Before It Blew Up Are Stunning
SpaceX's launch of its uncrewed Starship garnered some astounding images during the second major
flight test
. The spacecraft achieved a height three times higher than its previous launch before it exploded over the Gulf of Mexico.
The company hoped Starship would have been able to successfully orbit Earth before landing in the Pacific Ocean. However, about eight minutes into the flight, a camera view seemed to show the
Starship booster
experiencing an explosion. At the time of the explosion, the rocket had reached an altitude of 91 miles (148km).
"We have lost the data from the second stage... we think we may have lost the second stage," remarked SpaceX engineer and livestream host John Insprucker. He added that engineers thought an automated flight termination command was triggered to destroy the rocket, but ground control was not clear as to why it happened.
SpaceX and Elon Musk shared incredible imagery of the launch on X/Twitter. In the tweet above from Musk, the launch of Starship can be seen in slow motion.
Not to be outdone, SpaceX shared its images of the event. In one tweet, a tracking camera view of the hot-staging separation was captured in four images.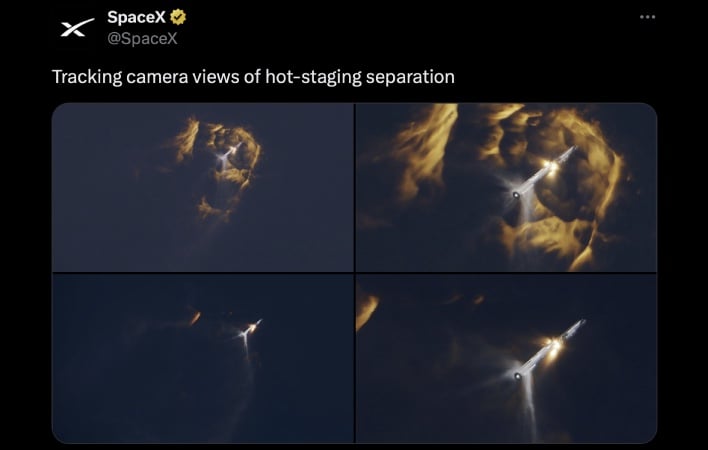 Even with the explosion, the test flight was not seen as a complete failure. Carissa Christensen, CEO of space analytics firm BryceTech, remarked, "More things were successful than in the previous test, including some new capabilities that were significant." She added, "There's not money and patience for unlimited tests, but for a vehicle that is so different and so big, two, three, four, five tests is not excessive."
The clock is ticking, however, as one investor pointed out. Chad Anderson, a SpaceX investor and managing partner of venture capital firm Space Capital, remarked, "NASA has a timeline where they're trying to get to the moon, and this is their primary vehicle to do it. So SpaceX needs to deliver on a timeline."
The US Federal Aviation Administration confirmed a mishap occurred that "resulted in a loss of the vehicle." The FAA did add that no personal or property damage had been reported.
Investors expect the cadence of test flights of
Starship
to increase next year. Jaret Matthews, CEO of Astrolab, commented, "They have the next number of vehicles already lined up in the factory ready to go. I think people will be shocked by the cadence that emerges next year."