ASUS ROG Zephyrus Gaming Laptops Rock Ryzen 4000 Zen 2 CPUs And Wild AniMe Matrix Display
ASUS
sprung a few leaks in the weeks leading up to CES 2020, and with the show about to kick off in Las Vegas, one last leak has made its way to the internet. Previously, listings from LambdaTek alerted us to the existence of incoming ASUS laptops powered by AMD
Renoir
Zen 2 processors. Today, those laptops featuring these new Ryzen 4000 mobile processor have been unveiled for the ROG and TUF Gaming product families.
The ROG Zephyrus G14 features a 14-inch display, although it can be configured with either a 120Hz Full HD panel or a 60Hz QHD panel, both of which support AMD FreeSync. The ROG Zephyrus G15 is a 15.4-inch class gaming notebook that will only be available with a Full HD display FreeSync. However, customers have the ability to pick from either a 144Hz or 240Hz panel depending on their gaming needs. While the Ryzen 7 4800HS has a more potent Radeon Vega graphics engine under the hood than its Zen+ based predecessors, the ROG Zephyrus G14 and G15 will be available with discrete NVIDIA GeForce GTX 1660 Ti 6GB or GeForce RTX 2060 6GB graphics cards.

As for the Ryzen 7 4800HS processor running the show in both laptops, it is an 8-core/16-thread processor with a TDP of 45 watts. As we previously mentioned, the Ryzen 7 4800HS is based on AMD's current Zen 2 architecture despite its "4000" classification. This is not to be confused with AMD's upcoming Zen 3-based desktop processors, which will also take on the Ryzen 4000 designation.

Other specs on tap for the ROG Zephyrus G14 and G15 include up to 32GB of DDR4-3200 memory, 512GB or 1TB PCIe NVMe SSDs, Wi-Fi 6/Bluetooth 5.0 support and a 76 WHr battery delivering up to 10 hours of battery life. But perhaps the most intriguing aspects of the new Zephyrus models has to do with what ASUS calls the AniMe Matrix LED display. This optional feature adds 1,215 mini LEDs to the display lid, where they shine white with 256 levels of brightness. Using built-in ASUS software, you can customize the AniMe Matrix display to show off customer graphics, text, or even animated GIFs to give you laptop an added touch of personalization.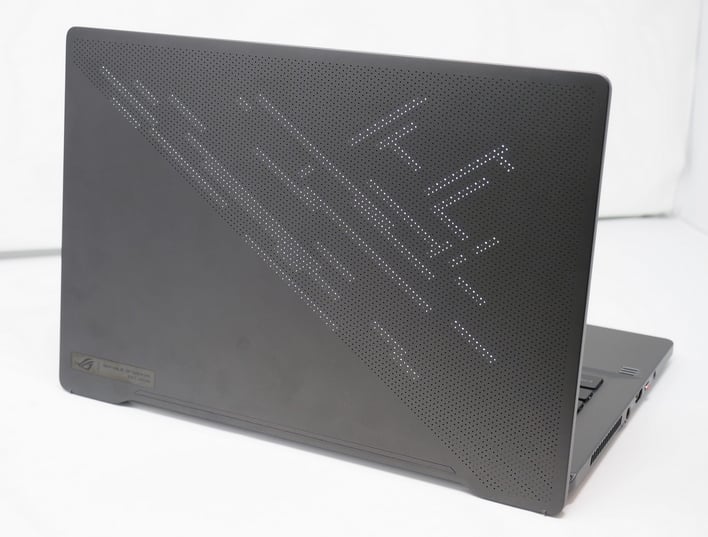 "Visualizations react to music and other audio, creating a unique platform for DJs and other artists," ASUS writes. "ROG engineers were also careful to balance the number of mini LEDs to minimize heat, controller hardware, and power requirements."
At this point, there is no indication about pricing, but ASUS says that both machines will be available during the first half of 2020.