ASUS ROG Matrix GeForce RTX 4090 Debuts With Liquid Metal Cooling And Record Boost Clock
While AI technologies (like NVIDIA's
ACE for Games
and Microsoft's
Windows Copilot
) have dominated the discussion so far this week at Computex, ASUS is making a splash in graphics hardware. According to ASUS, its ROG Matrix GeForce RTX 4090 ships with the highest out-of-box GPU boost clock speed ever for factory-overclocked 4090 graphics cards, and it's thanks in large part the use of liquid metal cooling.
This is not the first foray for ASUS into liquid metal cooling territory—there are some ROG gaming laptops that use liquid metal—though it is the first ROG-branded graphics card to employ this type of thermal compound. Liquid metal a tricky substance because It's electrically conductive, so there's
little-to-no room for error
when applying it to a component. But it also has a big upside compared to traditional thermal compounds.
"Liquid metal is an incredible thermal interface material, producing much lower temperatures when compared head-to-head with traditional thermal pastes. It does, however, have one significant challenge: it's electrically conductive. When applied improperly, it has a chance to make contact with exposed components and risk a short circuit. But building on years of expertise with liquid metal in the ROG laptop division, ASUS has an exclusive production process that can safely harness the power of liquid metal while still allowing for vertical GPU mounting," ASUS explains.
That process involves a UV resin above the surface-mounted capacitors that sit around the GPU die, along with a couple of additional layers of protection between the PCB and the die. ASUS says this process results in "no risk of leakage," hence why it's confident to release this card to retail.
Interestingly enough, ASUS hasn't specified precisely how high the GPU boost clock is set at, only that it's a record frequency for a retail
GeForce RTX 4090
product. And in an ROG Pulse podcast, it's claimed that the ROG Matrix model is using the top-binned chips from NVIDIA to ensure the highest boost clocks of any GeForce RTX 4090 currently on the market.
"So that means it's literally the fastest 4090 you can buy," says Whitson Gordon, senior manager of marketing content at ASUS. "We have liquid-cooled it. As you can see we did bring back the radiator. In fact it's an extra thick radiator to get the maximum performance out of this card, and we are using our new RGB fans, the new ROG MF12S ARGB fans."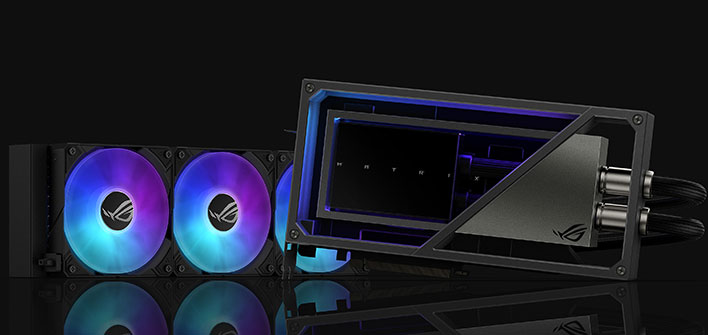 The card is enclosed in a metal frame. It also features a hollow chamber housed in another aluminum frame for the main cold plate, circuit board, and pump shroud. Combined with the RGB lighting, it's a gorgeous graphics card, at least from the renders and actual photos we've seen.
A pair of tubes connect the card to a "custom, extra thick" 360mm radiator with three cooling fans attached. And on the card, ASUS says a custom full-coverage cold plate makes direct contact with heat producing components on the PCB.
We did some digging to see which custom GeForce RTX 4090 cards currently offer the fastest boost clocks. What we found is the ASUS ROG Strix GeForce RTX 4090 OC Edition with a 2,640MHz boost clock (OC mode), which is available on sale for
$1,901.99 at Amazon
, and the MSI GeForce RTX 4090 Suprim Liquid X with a 2,625Mhz boost clock, which is listed for
$1,749.99 at Best Buy
. NVIDIA's reference design sets the boost clock at 2,520MHz.
Based on those findings, it's likely the
ASUS ROG Matrix GeForce RTX 4090
will ship with a boost clock of at least 2,650MHz (and hopefully at least 2,700MHz) with a price somewhere above $2,000.