ASUS ROG Ally PC Gaming Handheld Prototypes Smile For The Camera And Show Its Evolution
It's clear that the industrial designers at ASUS honed the
ROG Ally
design through numerous prototype stages to end up with the handheld we see today. Already quite familiar to tech enthusiasts, the feature image here shows what might have been. Some of the prototypes were rather wild, but it is clear that ASUS was very open-minded along the path to get to its final product.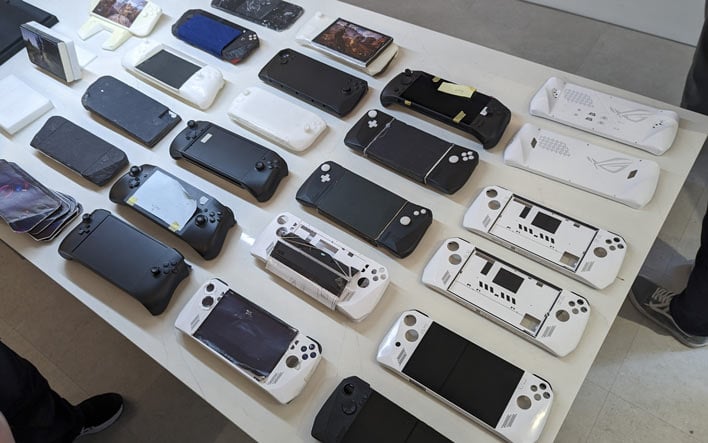 In the above image, Engadget China discovered all these
prototypes
laid out on a table, and it looks like the earliest prototypes are to the left. Thus, it looks like ASUS was considering a rather bland tablet with detachable controllers during early iterative work. We also spy some Switch-alikes, Steam Deck-alikes, and even some Lynx-alikes within the throng.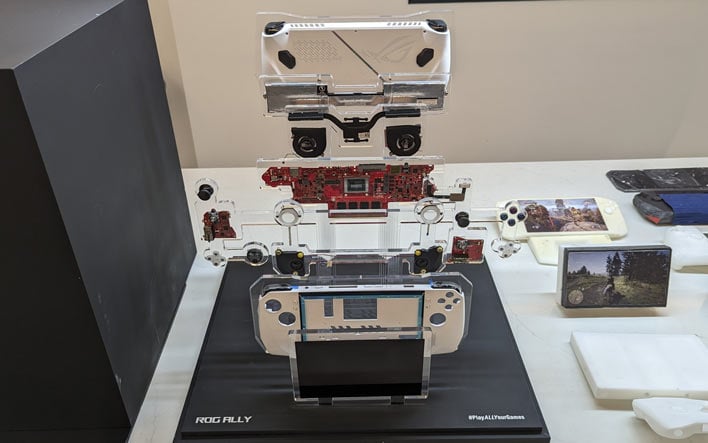 The prototypes were part of a media hands-on event in New York, where ASUS has been showcasing the highly anticipated ROG Ally in what appears to be its final form. There are still a number of aspects of the handhelds design which are being kept under wraps, but the assortment of tech journos prodding the device provide some reassurance, and show ASUS's confidence, that this soon to launch device (May 11) is ready for prime time. Even ASUS Armory Crate SE, which is the control pad and touch friendly launcher for the handheld, looked responsive in some of the video clips.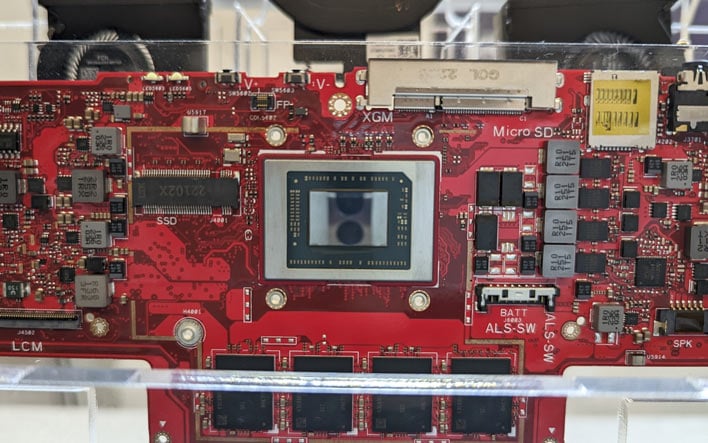 Staying with the topic of the form of the ROG Ally, an Engadget journalist at the event was complimentary of the design overall. The more familiar aspects of the design, like the form factor, buttons, sticks, and triggers, were reassuring. However, without a prolonged testing session, the shallower grip style of the
ROG Ally
caused some worries about longer-term comfort.
At the showcase today, some of the specs and features of the design were confirmed, the most important of which were:
The device's 7-inch 1080p screen, which runs at up to 100Hz and offers up to 500nits of brightness.
The use of AMD's newly announced Ryzen Z1 processor, designed specifically for mobile handheld PCs and utilizing the latest Zen 4 CPU cores and RDNA 3 GPU compute units. Read our earlier coverage of the AMD Ryzen Z1 and Z1 Extreme.
Up to 16GB of LPDDR5 RAM and 512GB of PCIe Gen 5 SSD storage.
Performance parallels were drawn: at 15W the ROG Ally offers 50% better performance than the Steam Deck, and at 30 to 35W it can offer double the performance, according to ASUS.
The device weighs about 600g, or 1.3lbs.
ASUS will fit a 50Wh battery, which may be a little stingy for untethered gaming sessions of any length.
Wi-Fi 6E on board.
There are shortcut buttons for things like settings, and ASUS Armory Crate, plus switching between gaming and auto modes.
The Engadget reporter
ran Forza Horizon 4
in performance mode (one step down from turbo mode) and was pleasantly surprised by the rich screen color and smooth gaming on offer "compared to Steam Deck." Whisper quiet performance, was observed, even when gaming. We must remember that the Forza series is pretty well known for click optimization and are not slow to adopt the latest AMD technologies. Some processor performance figures from the AMD Ryzen Z1 Extreme launch are reproduced below, as they might help provide a broader set of expectations.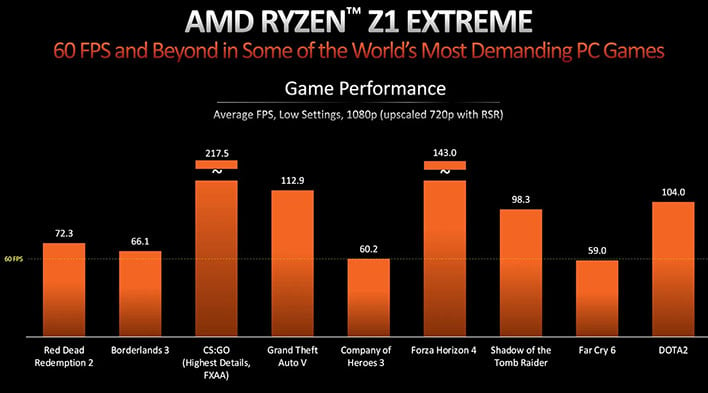 Before we go, it is worth reminding readers that ASUS plans a full launch event for the ROG Ally on Thursday, May 11. At the big event, there will be a keynote featuring ASUS's Shawn Yen, as well as Roanne Sones from Xbox and Frank Azor from AMD. We are promised full specs, pricing, and pre-order details are coming soon.