ASUS ROG Ally Base Model Lands At Retail For Less Money But Is It Worth It?
It took a little while, but the cheaper variant of the ASUS ROG Ally outfitted with a non-Extreme version of the Ryzen Z1 SoC is now available and it costs $100 less than the Ryzen Z1 Extreme model we
reviewed
in June. The arrival of the less expensive SKU comes in the midst of another Steam Deck sale, though, in which Valve's own handheld game console is marked down 10-20%, depending on the SKU.
You can find the
base ROG Ally
for
$599.99 on Best Buy
, along with the more powerful Ryzen Z1 Extreme model for
$699.99
. Meanwhile, Valve's flagship Steam Deck with 512GB of NVMe SSD storage is on sale for $519.20 (down from $649), while the 256GB NVMe SSD model is marked down to $449.65 (from $529) and the 64GB eMMC config is selling for $359.10 (down from $399).
This raises the obvious question—is the Ryzen Z1-powered ROG Ally for $599.99 worth buying, or should you spring for either the more powerful Ryzen Z1 Extreme model, or a Steam Deck (which is getting
HDR and VRR support
)? The imprecise one-size-fits-all answer is, it depends.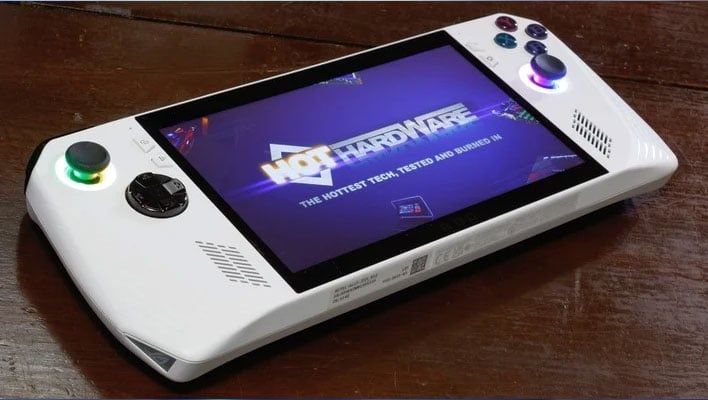 Other than the downgraded SoC, the $599.99 and $699.99 ROG Ally share the same specs, including a 7-inch IPS display (1920x1080, 120Hz refresh rate, 7ms response time, 500 nits brightness, FreeSync Premium), 16GB of LPDDR5-6400 RAM, a 512GB NVMe SSD, Dolby Atmos audio, and so forth.
Where the two models diverge is with the engine that drives the handheld, if you will. The non-Extreme
Ryzen Z1
inside the $599.99 ROG Ally features a 6-core/12-thread CPU clocked at up to 4.9GHz with 22MB of total cache, compared to an 8-core/16-thread config clocked at up to 5.1GHz with 24MB of total cache in the Ryzen Z1 Extreme.
The bigger disparity, however, is within the graphics portion. The Ryzen Z1 sports an integrated Radeon 740M GPU with just four compute units serving up 256 shaders at a 2.5GHz clock speed. This translates into up to 2.8 TFLOPS of graphics power.
AMD's Ryzen Z1 Extreme wields a more powerful Radeon 780M iGPU with 12 compute units and 768 shaders, configured with a 2.7GHz boost clock. This bumps the graphics power up to 8.6 TFLOPS.
TFLOPS isn't everything, of course, but it's not nothing either (especially when comparing the same architecture). So, what does this all boil down to?

Zak Killian, who
reviewed
the Ryzen Z1 Extreme powered ROG Ally, had this to say about the Ryzen Z1 model: "I think the performance difference is going to be a lot lower than people expect, particularly at the 15W-and-below power limit that you really need to use for battery play. It's also fascinating because it will be the first release of a hybrid CPU from AMD—Ryzen Z1 is 'Phoenix 2' with 2x Zen4 + 4x Zen4C."
His prediction is that the "absolute top-end performance is going to be a lot worse, but I think the performance at 15W and lower settings is going to be nearly identical, like 5-10% lower."