Steam Deck Previews Exciting Game Play Upgrades Including HDR And VRR Support
The
Steam Deck
has been a big hit, thanks in no small part to Valve's
years of work
on its Linux-based Steam OS. Valve tests and optimizes the software for big game releases and rolls out new features regularly. There's a new version available to beta testers with a little bit of everything. It might not be the most stable, but anyone trying to play Starfield on Valve's handheld console might want to give Steam OS 3.5 a look.
Valve equipped the Steam Deck with a passable LCD screen at 1280 x 800. It doesn't have the color range to display HDR content, but Valve is adding HDR support to the OS. So, you can take advantage of the expanded color gamut if you connect to a compatible external monitor. Likewise, Steam OS 3.5 adds support for variable refresh rates (VRR) when connected to an appropriate screen.
You might notice the built-in display looks a bit different after the update, though. Valve has adjusted the default color rendering to approximate the sRGB color space. That means the LCD might look slightly warmer and more vibrant. There are several other color presets available if that's not to your liking. There are also sliders (see below) for manually adjusting the color vibrance and temperature.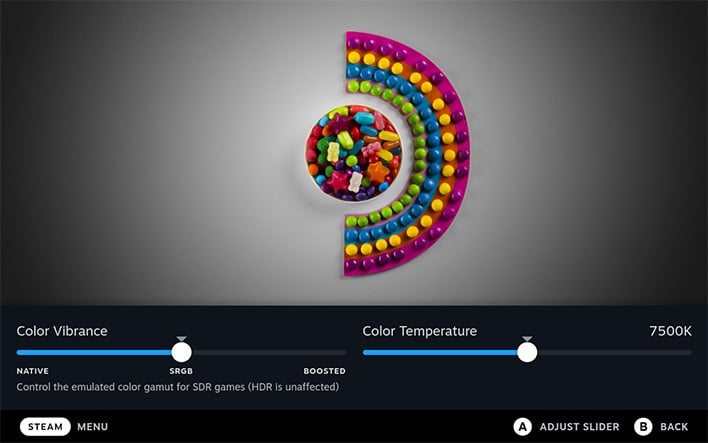 On the functional side, Valve has refined the graphical drivers to increase performance. It specifically made enhancement for Bethesda's newest game, the
expansive space RPG Starfield
. Performance in
Starfield
often leaves something to be desired, so every little bit helps. There are also fixes for games like
Returnal
,
Amnesia: The Bunker
, and
Immortals of Aveum
.
The underlying Arch Linux OS has been updated, which will no doubt delight Desktop Mode users. There's a new Plasma desktop interface with widgets, a new windowing system, and better software management. Valve also added a few low-level tweaks to make the firmware reset shortcut more reliable and added optional voltage offset to (potentially) save power. The
new update
is available to anyone who has opted into the beta channel under Settings > System > System Update Channel.