OEM Leak Confirms AMD Radeon RX 5600 XT 6GB Specs For Mainstream Gamers
Sometimes we see leaks and rumors originate from the most unusual (and unreliable) sources, but that is not the case here. One of
AMD's
board partners, briefly posted a product page for a "Radeon RX 5600 XT Challenger D 6G OC" graphics card, with key specifications outlined for all to see. The manufacturer has since pulled the listing, though the cat is already out of the bag.
Not that it matters a ton—we have said before that we are fairly certain AMD will be announcing the Radeon RX 5600 series soon, based on various leaks from around the web. For example, there's an EEC listing that references multiple
Gigabyte Radeon RX 5600 XT Eagle
series cards.
This OEM's product page, however, is interesting because it is the closest thing we have to a confirmation without AMD actually announcing the card, and it reveals a bunch of specifications to boot. Have a look...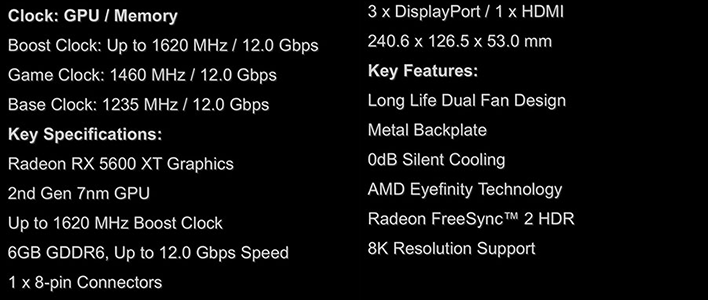 There is another part of the listing that confirms the Radeon RX 5600 XT sports 2,304 stream processors. The listing also seemingly confirms the card will have 6GB of GDDR6 memory chugging along at up to 12Gbps, and a 192-bit memory bus width. Good stuff (and shout out to the
Reddit user
who spotted the listing).
The model name of this card suggests it is factory overclocked, so we don't have an accurate pulse on stock clocks. Instead, the OEM lists this particular model has having a 1,235MHz base clock, 1,460MHz game clock, and up to a 1,620MHz base clock. I suspect the base and game clocks reflect stock settings, with only the top end of the boost clock being overclocked, but we will have to wait until AMD formally introduces the Radeon RX 5600 XT to know for sure.
It will also be interesting to see how performance shakes out. A
recent 3DMark leak
suggests it will be roughly on par with a Radeon RX Vega 56, but that is something we will evaluate once we get one of these cards in our hands.