Apple's Autocorrect Will Finally Let You Be A Potty Mouth And That's Ducking Great
Apple is making a long-awaited change to its autocorrect in terms of many people's favorite expletive and iPhone users wonder what the duck took so long. Thanks to new machine learning technology, an upcoming change in the
iOS 17
software will stop autocorrecting swear words and more.
Just about everyone who owns a smartphone and sends text messages has been the victim of autocorrect, leading to a reply of "ducking autocorrect!" Whether it be from changing an innocent reply into something more nefarious, or to something that makes absolutely no sense at all, autocorrect has a long track record of making lives more difficult than it should be at times.
Apple
has heard the cries of users' pain and is about to change the ducking game.
"In those moments where you just want to type a ducking word, well the keyboard will learn it too," explains Craig Federighi, Apple's Senior Vice President of Software Engineering.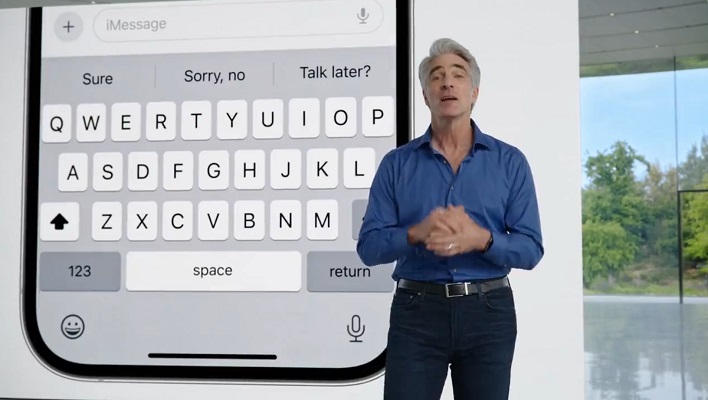 The new autocorrect will be powered by a transformer language AI model, which Apple refers to as "a state-of-the-art on-device machine learning language model for word prediction." It will predict which words and phrases you might type next, learning from a person's most-used phrases, habits, and preferences over time. So, if someone tends to have a Samuel L. Jackson-type vocabulary, the AI model will adapt to it and stop autocorrecting their expletive-filled responses.
The new AI model will not only work to learn a user's vocabulary habits, but also aims to be better at fixing grammatical mistakes and predicting words or phrases as users type. Apple says it will also make dictation easier and more accurate as well. The new technology should also ease the pains of those who tend to use a lot of slang words as it learns from a user's habits and how they tend to speak.
The Cupertino company also announced some new products at WWDC, which included a new 15-inch MacBook, Mac Studio, Mac Pro, and its highly-anticipated
Vision Pro
virtual reality headset that will retail for a whopping $3,499.
For anyone that does not like the new AI model of
autocorrect
, Apple says users will be able to turn the feature off on iPhones.