Apple Reality Pro AR Headset Gets Gutted For An Unofficial Photo Shoot
Apple is expected to take the wraps off its highly anticipated augmented reality (AR) / virtual reality (VR) headset this summer, but we may have just got the first glimpse of some of the actual hardware. An Apple leaker of some repute shared a quartet of headset component images today, and the Apple tech press is bubbling over with excitement. However, please be warned, these aren't anything like the glossy PR lifestyle images of the upcoming
Apple Reality Pro headset
the company might prefer – they only show internal components.

In the image above, you can see a pair of intricately shaped ribbon cables. The connector types will be immediately familiar to anyone who has taken apart a compact electronic device in recent years.
As for how these would fit into a head mounted display (HMD), we would say that both the FFC/FPC connectors likely wrap around a front mounted PCB to communicate with other electronics or take power from the HMD frame. Fixing points are also visible, particularly evident around the wearer's nose bridge.


The next component picture from Twitter's
MrWhite128
appears to include another ribbon cable, but it may also double up in some structural capacity. It follows a straight path from the angle we are looking at. Looking for similar components in headset teardowns featuring the likes of the
HTC Vive
and
Meta Quest 2
didn't prove fruitful.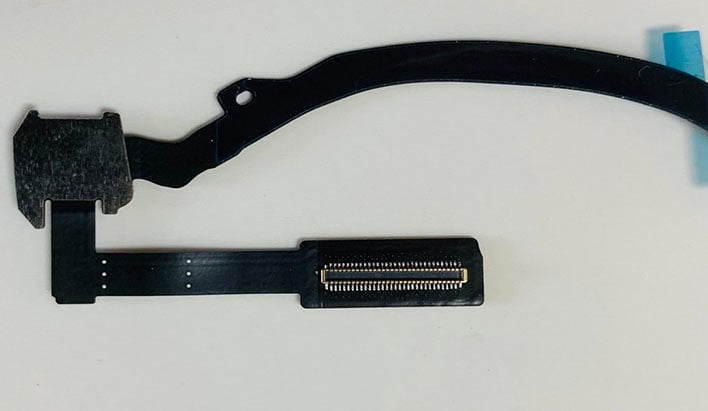 One of the biggest open questions about Apple's upcoming device is whether it will require a host for processing power or depend on an external device. Whatever the case, Apple's debut into the AR/VR headset market likely won't come cheap, with previous rumors of a price of around $3,000. The latest information we have points to an official Apple Reality Pro headset launch
coinciding with the WWDC
this summer.