Apple Launches iPhone 11, iPhone 11 Pro Smart Battery Cases With Dedicated Camera Button
When Apple launched its new
iPhone 11 and iPhone 11 Pro
smartphones back in September, the company impressed with its blazing fast A13 Bionic SoC, incredibly bright display, and top-notch image quality from its new dual- and triple camera arrays. More importantly, Apple managed to boost battery life by up to 5 hours compared to the previous generation models without a significant increase in thickness.
For those that still aren't satisfied with the battery life improvements (+1, +4, and +5 hours respectively on the iPhone 11, iPhone 11 Pro, and iPhone 11 Pro Max), then Apple has just officially launched new Smart Battery Cases for all three smartphones. Like previous generation Smart Battery Cases, these latest offering are recharged via Lightning port, and have a cutout for the rear cameras (this time around, it's a square-shaped cutout). New this year is the inclusion of Qi wireless recharging as well.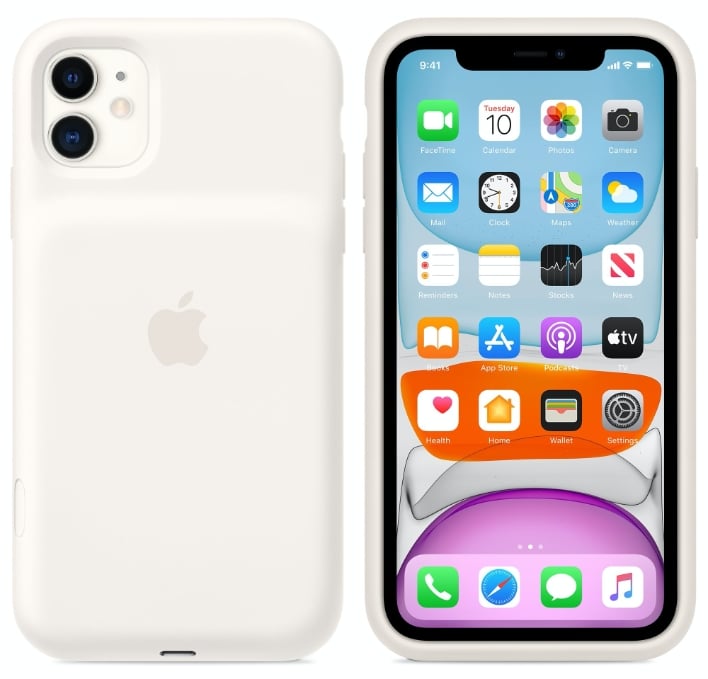 The cases feature a silicone outer covering which makes it easier to insert and remove your smartphone, while a microfiber lining ensure that your device won't get scratched from repeated manhandling. According to Apple, the Smart Battery Cases will boost battery life for the iPhone 11 and iPhone 11 Pro range by up to 50 percent over their already impressive runtimes. Battery status can be quickly obtained by looking in Notification Center or by glancing at the lock screen.
This year, however, Apple is throwing in an added bonus with the Smart Battery Case: there's now a dedicated camera shutter button on the lower right-hand side of the case. The positioning is perfect for holding the iPhone in landscape mode to take a picture, and takes the place of hitting the shutter button on the screen (or one of the volume buttons). A single press will capture an image, while holding it down will result in a QuickTake video.
Apple says that the new Smart Battery Cases will ship on November 25th, but you can pre-order then today. The price of entry is $129 no matter if you're purchasing one for an iPhone 11, iPhone 11 Pro or iPhone 11 Pro Max.