Apple Tops Record 1 Billion Paid Subscriptions As iPhone, iPad And Mac Sales Dip
Apple's latest earnings report reflects a third straight quarter of declining revenue, which for the three-month period that ended July 1, 2023, slipped 1% (year-over-year) to $81.8 billion. The sagging revenue comes amid a dip in hardware sales across iPhone, iPad, and Mac devices,
Apple
isn't fretting too much as its 'Services' revenue and number of paid subscriptions reached all-time highs.
In a statement, Apple CEO Tim Cook said the company now has over 1 billion paid
subscriptions
, which contributed to a record-high $21.2 billion in Services revenue for its fiscal 2023 third quarter. That's up from $19.6 billion in the same quarter a year ago.
"Our June quarter year-over-year business performance improved from the March quarter, and our installed base of active devices reached an all-time high in every geographic segment," added Luca Maestri, Apple's CFO. "During the quarter, we generated very strong operating cash flow of $26 billion, returned over $24 billion to our shareholders, and continued to invest in our long-term growth plans."
Apple still makes most of its money from hardware sales, which collectively accounted for $60.6 billion in revenue (down from $63.4 billion year-over-year). But sales trended downward almost across the board with iPhone revenue dropping to $39.67 billion (down from $40.67 billion), iPad sales dropping to $6.84 billion (down from $7.38 billion), and iPad sales skidding $5.79 billion (down from $7.22 billion).
The Wearables, Home, and Accessories category (Apple Watch, AirPods, Apple TV, and so forth) was the only hardware segment that grew, with sales tallying $8.28 billion last quarter (up from $8.08 billion).
Even so, Cook touted "robust sales of iPhone" in emerging markets among an "uneven macroeconomic environment." He also said Apple saw a record number of users switch over to iPhone, "reflecting the popularity of the iPhone lineup."
Still, it was the Services category that made it an "exciting quarter" for Apple with a better-than-expected 8% jump in revenue. As such, net income increased to $19.88 billion (up from $19.44 billion).

"We set an all-time revenue record for total services and in a number of categories, including video, AppleCare, cloud and payment services. Since we introduced Apple Pay almost a decade ago, customers have been loving how easy it is to make purchases online, in apps and in stores. We're also pleased to see Apple Card build on the success of Apple Pay," Cook said during a conference call to discuss the company's
latest earnings
.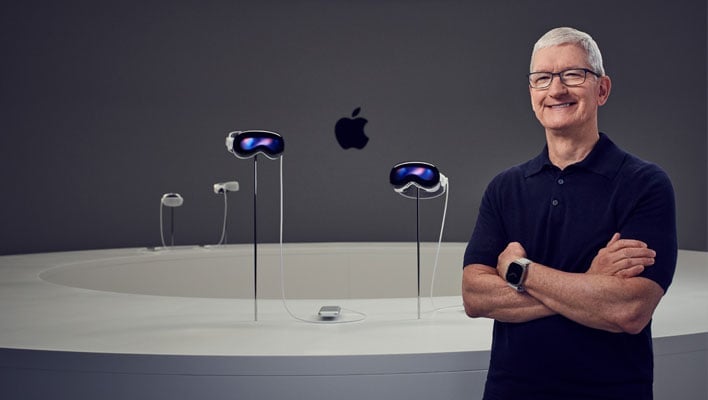 Looking ahead, Apple will attempt to rebound its hardware sales with the eventual launch of the
iPhone 15
series, which is expected to be announced in September. And looking further down the road, Apple is optimistic that its
Vision Pro headset
will be a hit.
"There's enormous excitement around the Vision Pro. We're excited internally. Everybody that's been through the demos are blown away, whether you're talking about press or analysts or developers. We are now shipping units to the developer community for them to begin working on their apps," Cook added.
Cook also said that the Vision Pro will begin shipping early next year.