AMD Radeon RX 7000 Family May Include Mix Of RDNA 3 And Refreshed RDNA 2 GPUs
It's been about eight months since AMD launched its
Radeon RX 6800
, RX 6800 XT, and RX 6900 XT RDNA 2 graphics cards. For the first time in years, AMD offers comparable performance to NVIDIA's
GeForce
family along the entire GPU stack from the entry-level sector to the high-end.
Unfortunately for gamers, the cards have been nearly impossible to purchase at retail prices due to the high demand and chip shortages. With that said, attention is already shifting to the next-generation Radeon RX 7000 family, and a new rumor alleges that AMD will take a two-pronged approach with its GPUs.
According to hardware leaker Greymon55, who posted their findings in a tweet, AMD will use RDNA 3 and RDNA 2 GPUs in its Radeon RX 7000 family. As you may recall, RDNA 3 is tipped to use TSMC's 5nm process node, which should help AMD ramp clock speeds and reap major performance-per-watt benefits.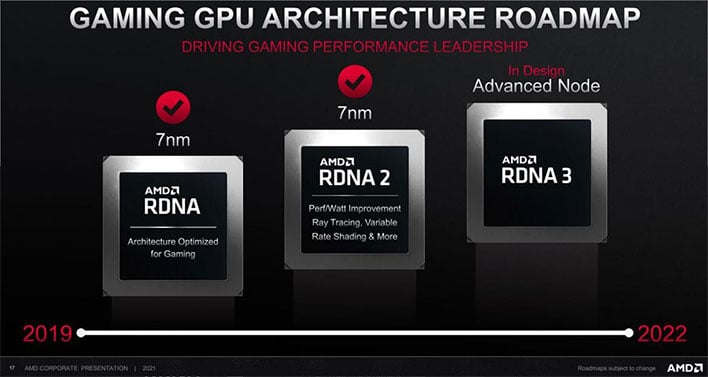 3DCenter claims that this is how the RDNA 3 family will look at launch:
Navi 31: Radeon RX 7900 XT
Navi 32: Radeon RX 7800 Series
Navi 33: Radeon RX 7700 Series
It's reported that the Navi 32 and Nav 32 will use AMD's Multi-Chip Module (MCM) design, while Navi 33 will go with a more traditional monolithic approach.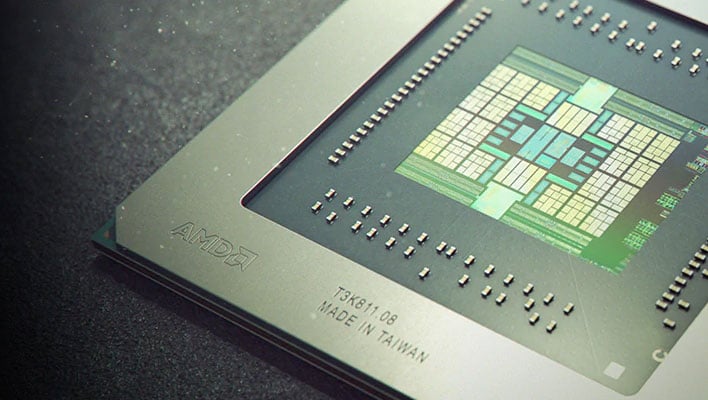 Those RDNA 3 GPUs would be joined by refreshed versions of existing RDNA 2 GPUs. According to Greymon55, Navi 24, Navi 23, and Navi 22 RDNA 2 GPUs will be refreshed on an intermediary 6nm process node instead of the current 7nm process node. This should allow for some slightly tweaked clock speeds compared to current-generation cards, but we shouldn't expect any dramatic leaps in performance as we're bound to get with RDNA 3.
Of course, this is all just speculation at this point, but it seems like a highly probable solution for AMD as it looks to maximize yields for its RDNA 3 GPUs in 2022 and leverages the economists of scale for a more mature 6nm process node with an RDNA 2 refresh.