AMD Threadripper 3990X 64-Core Beast Seen Crushing $20K Of Xeon Platinum CPUs In Benchmark Leak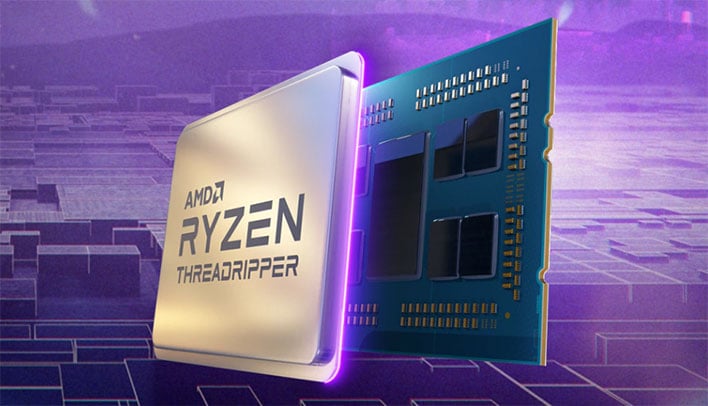 Another work week is upon us, and if you are looking for a way to kick things into high gear, you might as well crank up the heavy metal. We can help with that, in a roundabout sort of way. No, we do no have a gnarly playlist to share, but we can direct your attention to a benchmark database showcasing AMD's
Ryzen Threadripper 3990X
processor, which is the tech equivalent of heavy metal.
As you may already know, the Threadripper 3990X is a beastly chip. Popping open the hood reveals 64 physical cores and 128 threads of high-end desktop (HEDT) muscle, with a 2.9GHz base clock, 4.3GHz boost clock, and 256MB of L3 cache (along with 32MB of L2 cache and 4MB of L1 cache). It all comes wrapped in a high-octane 280W package.
AMD
announced the Threadripper 3990X at CES 2020. It is not out yet, but when it arrives to retail, it will take its place at the top of the totem pole. As to how it performs, the folks at
Overclockers.ru
spotted
the chip sitting pretty
in a SiSoftware SANDRA database entry. Have a look...
As shown in the database entry above, the Threadripper 3990X achieved a Processor Arithmetic score of 1,786.22 GOPS while running at 4.35GHz. That's a touch above what AMD rates the maximum boost clock, so it is possible the CPU was overclocked for this benchmark run (assuming the frequency is accurate).
To put that score into perspective, it is nearly 18 percent higher than a system with two second generation
Intel Xeon Scalable Platinum 8280
processors (Cascade Lake). Each Xeon Platinum 8280 CPU features 28 cores and 56 threads clocked at 2.7GHz to 4GHz, with 38.5MB of L3 cache, so a dual Xeon Platinum 8280 setup rocks 56 cores and 112 threads.

Simple math tells us the Threadripper 3990X has the advantage in core and thread counts, at +8 and +16, respectively. So to post a higher SANDRA score is not surprising. After all, the Threadripper 3990X is based on AMD's latest generation 7-nanometer
Zen 2 CPU architecture
. But here's the thing, each Xeon Platinum 8280 CPU costs around $10,000.
In other words, the Threadripper 3990X is outperforming $20,000 worth of Xeon silicon in this particular benchmark. AMD's flagship HEDT chip, meanwhile, will cost a fraction of two Xeon Platinum 8280 processors.
Ryzen Threadripper 3990X (64 cores / 128 threads, 2.9GHz to 4.3GHz): $3,990
Ryzen Threadripper 3970X (32 cores / 64 threads, 3.7GHz to 4.5GHz): $1,999
Ryzen Threadripper 3960X: (24 cores / 48 threads, 3.8GHz to 4.5GHz): $1,399
Looking at the MSRPs of the three Threadripper processors, AMD is asking $58.29 per core on the Threadripper 3960X, $62.47 per core on the Threadripper 3970X, and $62.34 per core on the Threadripper 3990X. It remains to be seen what the rumored 48-core/96-thread
Ryzen Threadripper 3980X
will cost if it wedges itself into the lineup.
Even at $3,990, the Threadripper 3990X offers solid value in the workstation segment, compared to the Xeon Platinum range. It's not cheap by means, but for those who need this kind of multi-threaded horsepower, it becomes an intriguing option.