AMD Ryzen Threadripper 3980X 48-Core, 96-Thread Monster CPU Tipped For 2020 Launch
Back in November, AMD launched two HEDT processors aimed at the professional market: the Ryzen Threadripper 3960X and the
Ryzen Threadripper 3970X
. AMD also confirmed in late November that a beast of a flagship processor is coming: the 64-core, 128-thread
Ryzen Threadripper 3990X
.
However, that leaves a hole in the lineup, because the currently available (and announced) SKUs include:
Ryzen Threadripper 3960X: 24 cores, 48 threads
Ryzen Threadripper 3970X: 32 cores, 64 threads
Ryzen Threadripper 3990X: 64 cores, 128 threads
That leaves room in the lineup for one more processor: a Ryzen Threadripper 3980X with 48 cores and 96 threads. This would completely fill out the lineup, giving AMD a top-to-bottom HEDT family that will offer even more stiff competition for Intel's competing family of products.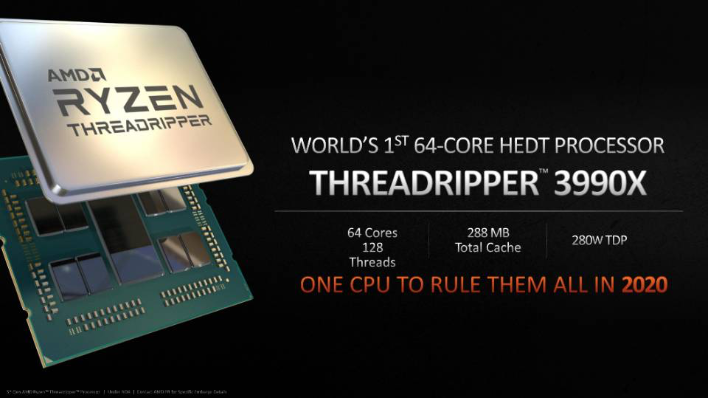 "Confirmation" of this new processor comes courtesy of support code found within CPU-Z v1.91. This code doesn't necessarily represent concrete proof that AMD will release this particular processor, but it makes complete sense considering the other members of the family.
At this point, there is no word on base or boost clocks for either the Ryzen Threadripper 3980X or Ryzen Threadripper 3990X, but the latter is confirmed to come with 288MB of total cache. Word on the street, however, is that the Ryzen Threadripper 3980X will have 280MB of cache. We can also expect that the TDP will ring in at 280 watts.
There is no set timetable for AMD to release the either the Threadripper 3980X and Ryzen Threadripper 3990X, but we hope to hear additional details next week at CES 2020 in Las Vegas.