AMD Ryzen And Athlon 7020C Processors Bring Everyday Efficiency To Chromebooks
As enthusiasts, we love to look at
the latest hardware
, but there is a part of the market that does not care about
the highest performance
or the fanciest features. This part of the market is primarily driven by one concern: price. Even still, there's money to be made here, so companies like AMD and Intel need products to cover this space.
To that end, AMD's just launched a quartet of CPUs aimed specifically at the price-conscious consumer. The Ryzen and Athlon 7020C CPUs are based on the silicon code-named Mendocino, which
we've reported on before
. These particular processors are designed specifically for Chromebooks, though. As a result, they're optimized especially for energy-efficient operation while providing "good enough" performance.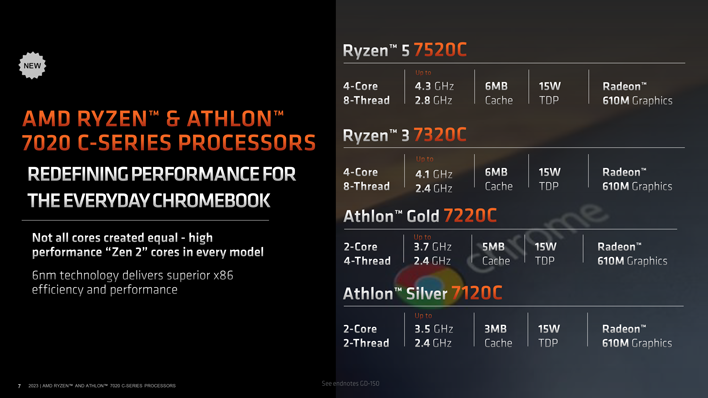 You can see AMD's own description of the four parts above. Don't be fooled by the "7000 series" branding, though—these SoCs have Zen 2-based CPU cores, and perhaps not even actually quite that. According to
leaks and rumors
, Mendocino supposedly sees significant cuts to the inside of the CPU cores compared to a standard Zen 2 configuration, but we haven't tested to confirm this for ourselves.
Meanwhile, the "Radeon 610M" graphics built into these SoCs is based on the efficient RDNA 2 architecture, which means that even these relatively modest integrated GPUs should offer solid performance for desktop use, including browsing, watching videos, and playing casual 2D games. Notably, the integrated Radeon cards can support up to three 4K60 external displays.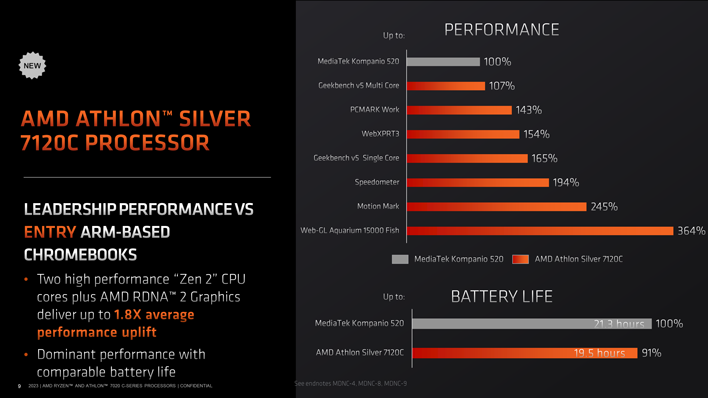 AMD makes some pretty bold claims about the Ryzen and Athlon 7020 C-series chips. The company claims that a Chromebook equipped with the Athlon Silver 7120C can run for 19.5 hours, while the Ryzen 3 7320C can apparently support up to 17 hours of "browsing, working, and learning." AMD also says that the Athlon Silver 7120C is 80% faster than "a competing ARM-based device," a claim that surely requires some qualification.

If you're keen for a new chromebook, systems sporting
these CPUs
should start to show up any day now. ASUS says it has new laptops on the way with these processors, including the Chromebook CM34 Flip.