AMD Throws Its Radeon RX 7000 RDNA 3 GPUs Under The Bus In Value Comparison
Understandably, AMD is really keen to sell through the remaining stock of its
previous-generation
RNDA 2-based graphics cards. To that end, the company has put up a blog post with a bunch of price-versus-performance data that carefully outlines why its
Radeon RX 6000 series
cards offer the best value. That's including a look against its own Radeon RX 7000 cards, which come out looking pretty poor in the value comparison.
To be clear, we don't actually think AMD's RDNA 3-based
Radeon RX 7900-series
graphics cards are a bad value. In comparison to the competition, they hold up reasonably well. That point of view is espoused by AMD's charts themselves, which compare the RX 7900 series at their MSRPs to the current street prices of previous-generation parts.
In these matchups across six games—Apex Legends, Call of Duty: Modern Warfare 2, The Callisto Protocol, Grand Theft Auto V, Overwatch 2, and Valorant—the last-gen Radeon GPUs do indeed offer pretty impressive value propositions. Specific mention goes to the Radeon RX 6700 XT for offering nearly 200 FPS on average in these games at 2560×1440 resolution for a street price of $369.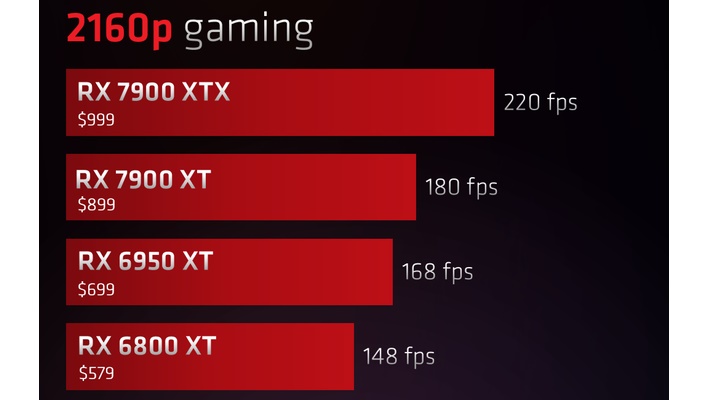 Similarly, AMD's Radeon RX 6800 XT, which we were very impressed with when
we tested it back in 2020
, apparently offers an average of 148 FPS in these games while playing in 4K resolution. It's only $579, barely more than half the cost of a Radeon RX 7900 XTX, and while that card does achieve 220 FPS average in the same test, it's 72% more expensive for 49% more performance.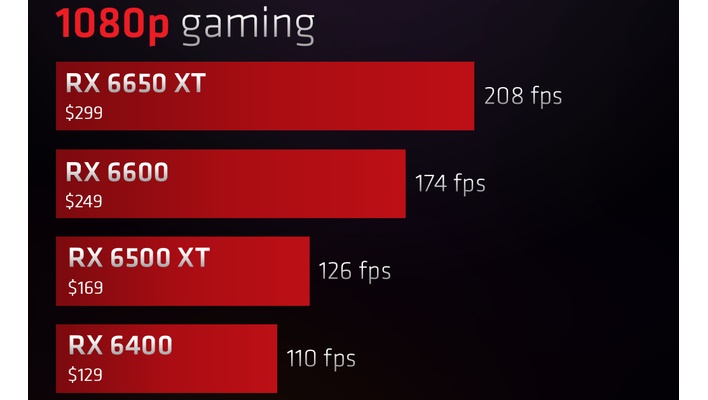 Things look even worse if you look at AMD's overall FPS-per-dollar chart (below), which compares all the games in 1080p resolution. As enthusiasts and regular HotHardware readers will likely be aware, these faster GPUs become more and more CPU-limited at lower resolutions, as parallel GPU compute power is increasing much faster over time than single-threaded CPU speed is.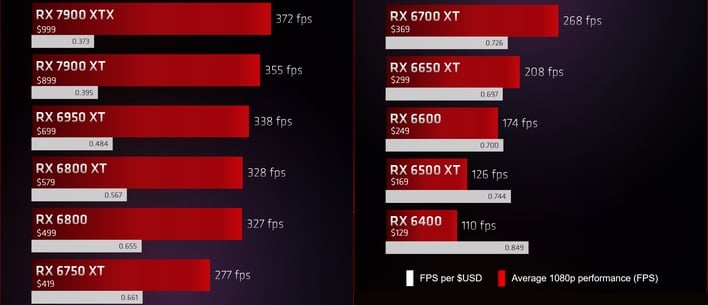 The chart positions the Radeon RX 6400 as the best performance-per-dollar value, at 0.849 FPS per $USD. Starting at the Radeon RX 6800, the benchmark set clearly becomes somewhat CPU-limited as performance barely increases even when using a mighty Radeon RX 7900 XTX, yet the price continues to go up, leading to the $1000 flagship offering a measly 0.373 FPS per dollar.
Obviously, this is fairly
skewed analysis
. If AMD had done the sensible thing and made three separate performance-per-dollar charts as it did with the relative performance graphs above, we would see that the Radeon RX 7900 XTX is only a somewhat worse value compared to Navi 21 parts, and that's entirely due to the previous generation depreciating in price over time. If we compare MSRP, the Radeon RX 7900 XTX obliterates the
Radeon RX 6900 XT
.