AMD Seems To Be Readying More Desktop CPUs With 3D V-Cache
A reputable leaker who has been reliable in the past suggests that AMD is about to expand its lineup of desktop processors equipped with stacked 3D V-Cache, though they won't be part of the Zen 4 family. Instead, upcoming additions will bolster AMD's previous generation
Ryzen 5000 series
based on Zen 3. They're also both mid-range SKUs, which means they could be enticing chips for gamers who want to build or upgrade a PC with a focus on stretching the bang-for-buck proposition.
One thing that's notable about AMD's socket AM4 platform is that it uses DDR4 memory. AMD made the shift to DDR5 with its socket AM5 platform and Zen 4, which means having to buy a new motherboard and memory if opting for a
Ryzen 7000 series
desktop CPU. That's not a bad thing, it just means a weightier investment.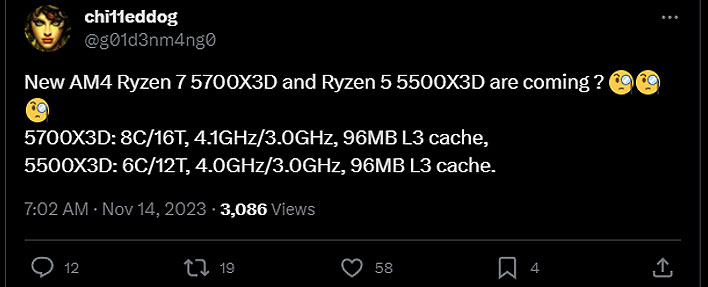 According to X/Twitter user chi11eddog (@g01d3nm4ng0), AMD is getting ready to unveil a Ryzen 7 5700X3D and a Ryzen 5 5500X3D, both of which will wield 96MB of L3 cache. Outside of the beefy L3 cache, the Ryzen 7 5700X3D is said to be an 8-core/16-thread processor running at 3GHz to 4.1GHz, while the Ryzen 5 5500X3D will be a 6-core/12-thread chip clocked at 3GHz to 4GHz.
Should this come to pass, here's what AMD's lineup of desktop CPUs with 3D V-Cache would look like...
Ryzen 9 7950X3D (Zen 4): 16C/32T, 4.2GHz to 5.7GHz, 128MB L3 cache, $699
Ryzen 9 7900X3D (Zen 4): 12C/32T, 4.4GHz to 5.6GHz, 128MB L3 cache, $549
Ryzen 7 7800X3D (Zen 4): 8C/16T, 4.2GHz to 5.0GHz, 96MB L3 cache, $399
Ryzen 7 5800X3D (Zen 3): 8C/16T, 3.4GHz to 4.5GHz, 96MB L3 cache, $359
Ryzen 7 5700X3D (Zen 3): 8C/16T, 3.0GHz to 4.1GHz, 96MB L3 cache, ???

Ryzen 5 5600X3D (Zen 3): 6C/12T, 3.3GHz to 4.4GHz, 96MB L3 cache, $229
Ryzen 5 5500X3D (Zen 3): 6C/12T, 3.0GHz to 4.0GHz, 96MB L3 cache, ???

Prices reflect what AMD currently charges in its online store, as opposed to launch and/or street pricing. The only exception is the Ryzen 5 5600X3D, as that's not available direct from AMD. However, that chip's MSRP is $229 (it's available exclusively at Micro Center, which has it marked down to $199).
It's anyone's guess how aggressive AMD will be with pricing on the upcoming 3D V-Cache models, assuming the tipster's info turns out to be true. No matter how you slice it, though, the assumed additions would be great for someone looking to build or upgrade a budget or modest gaming PC before making the jump to a new generation platform. One last hurray, if you will.