AMD Eyes An AI Uplift As GPU And PC Earnings Hit A Speed Bump
Shares of AMD rose in after-market trading hours last night and are down slightly this morning this morning after the chip designer posted better-than-expected financial results for the second quarter of 2023, including $5.36 billion in total revenue (down 18% year over year and
flat sequentially
) and net income of $27 million (down 94% year-over-year and up 119% sequentially).
Part of what has investors (and AMD) optimistic is the company's positioning to chip into a burgeoning market for
artificial intelligence
(AI) solutions.
"We delivered strong results in the second quarter as 4th Gen EPYC and Ryzen 7000 processors ramped significantly," said AMD Chair and CEO Dr. Lisa Su. "Our AI engagements increased by more than seven times in the quarter as multiple customers initiated or expanded programs supporting future deployments of Instinct accelerators at scale."
Dr. Su also noted "strong progress" in hitting key hardware and software milestones to meet demand for AI solutions in the data center, as well as being on track to both launch and ramp production of MI300 accelerators by the end of the year. In the meantime, AMD's Instinct MI300A and
MI300X GPUs
are sampling to HPC, cloud, and AI customers.
The AI gold rush that is beginning to happen provides a silver lining to slumping PC and GPU sales. AMD's Client revenue, which includes money earned from desktop and laptop processors and chipsets, fell 54% year-over-year to $998 million (albeit it's up 35% sequentially).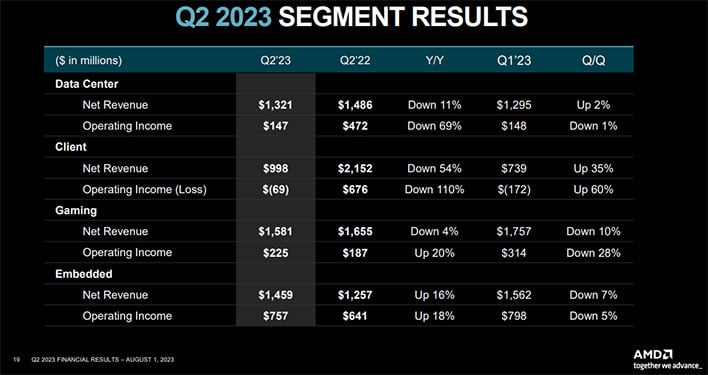 Likewise, Gaming revenue also hit a speed bump, declining 4% year-over-year and 10% sequentially to $1.58 billion. This includes a wide range of consumer GPUs, including discrete graphics cards and semi-custom silicon found in consoles like the Xbox Series X|S and PlayStation 5.
Gaming ranked as AMD's highest-earning category, helped in large part by growth in semi-custom chip revenue to power bleeding edge game consoles. That's not surprising, given that Sony just recently celebrated
surpassing 40 million PS5 sales
. Even so, it wasn't enough to completely offset the Gaming division as a whole.
Looking ahead, AMD anticipates AI giving the company a financial boost. In particular, Dr. Su stated during an earnings call that AMD's goal is to make its MI300 accelerators "a significant growth driver." She also pointed to AMD's Ryzen 7040 mobile CPUs as being the industry's first x86 processors with a dedicated AI engine, and the market opportunity that exists for these kinds of products.
"Going forward, we see AI as a significant PC demand driver as Microsoft and other large software providers incorporate generative AI into their offerings," Dr. Su stated.
As for the more immediate future, AMD stated in its
latest earnings report
that it expects third-quarter revenue to be around $5.7 billion.