AMD Reports A Steep Decline In PC Chip Sales But There's An EPYC Silver Lining
AMD has posted its earnings report for the first quarter of 2023 and in it the company divulges some notable losses, including a 9 percent year-over-year decline in revenue to $5.35 billion. This resulted in a net loss of $139 million, compared to a $786 million profit in the same quarter a year ago. Nevertheless,
AMD
CEO Dr. Lisa Su remained upbeat with an eye on "significant growth opportunities" if the company sticks to its game plan.
"We executed very well in the first quarter as we delivered better than expected revenue and earnings in a mixed demand environment," Dr. Lisa Su said in a statement. "We launched multiple leadership products and made significant progress accelerating our AI roadmap and customer engagements in the quarter. Longer-term, we see significant growth opportunities as we successfully deliver our roadmaps, execute our strategic data center and embedded priorities and accelerate adoption of our AI portfolio."
This is AMD's first loss in years. In the (very) old days before Zen, it wasn't uncommon for AMD's earnings reports to underwhelm. But Dr. Su deserves credit for turning AMD around and putting it on a path to success, unlike a much earlier era when it seemed the company was being propped up by its ATI acquisition.
AMD is not alone in navigating a challenging economic environment. Just days ago, Intel CEO Pat Gelsinger sang a similar refrain after the chip maker posted an
historic loss
as earnings plummeted 133 percent year-over-year. In the face of it all, he too talked about Intel's roadmap and hitting on key milestones.
What both AMD and Intel are contending with is a
downturn in PC shipments
even as OEMs offer big discounts at retail. It will take some adjusting to life after the height of the pandemic, and in that regard these earning reports are not wholly unexpected.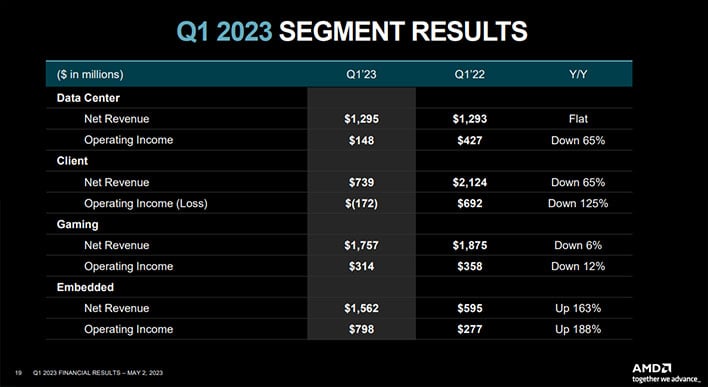 As it applies to AMD, the company saw its client chip sales plummet 65 percent to $739 million. That's especially notable because its client division went from being the top earner a year ago to its lowest-performing segment.
Dollars from gaming revenue also fell, though not nearly as sharply—net revenue decline 6 percent year-over-year to just under $1.8 billion. Gaming, which includes semi-custom SoCs packed into modern generation consoles like the
Xbox Series X|S
and
PlayStation 5
, ranked as AMD's top earner in the first quarter versus its second-highest a year ago.
The sliver lining to what can be construed as a rough quarter is the combined performance of AMD's embedded and data center divisions. Sales of data center products such as EPYC stayed flat at nearly $1.3 billion while embedded sales skyrocketed 163 percent to $1.56 billion.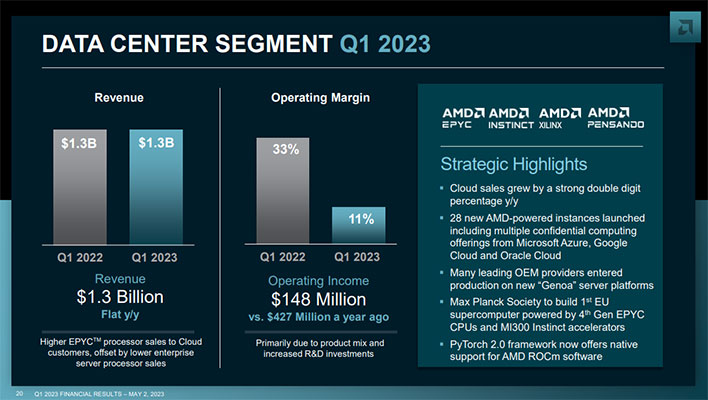 "Our strategically important Data Center and Embedded segments contributed more than 50 percent of revenue in the first quarter," said AMD EVP, CFO and Treasurer Jean Hu. "For the second quarter we expect sequential growth in our Data Center and Client segments offset by modest declines in our Gaming and Embedded segments. We remain confident in our growth in the second half of the year as the PC and server markets strengthen and our new products ramp."
AMD also pointed to a double-digit percentage growth in cloud sales compared to last year, which helped offset lower enterprise processor sales.
Looking ahead, AMD expects revenue to check in around $5.3 billion in the second quarter. In the meantime, shares of AMD's stock are down around 7 percent in pre-market trading as investors analyze the mixed results.