AMD Claims Ryzen 7 7800X3D Is Up To 24% Faster Than Core i9-13900K For Gamers
AMD has pulled back the curtain on its Ryzen 7 7800X3D and finally given us a preview of the chip's highly-anticipated gaming performance figures. The results do not disappoint. In two new official AMD slides revealed, the 7800X3D completely dominates its arch-rival, the Core i9-13900K and its predecessor the Ryzen 7 5800X3D. Showing up to a 24% increase in gaming performance compared to the 13900K, and a 30% lead over the 5800X3D.
The results were demonstrated with a set of 7 different titles overall, including three to four different titles depending on the CPU comparison. The 13900K chart showed off Rainbow Six Siege, Total War: Three Kingdoms, Red Dead Redemption 2 and Horizon Zero Dawn. Where the Ryzen 7 7800X3D was 13% faster in Rainbow Six Siege, 18% faster in Total War: Three Kingdoms, 23% in Red Dead Redemption 2, and 24% faster in Horizon Zero Dawn.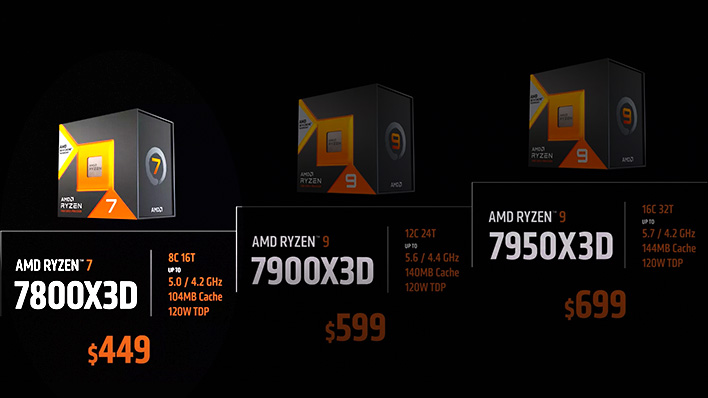 In the Ryzen 7 5800X3D comparison, AMD showcased performance figures for Rainbow Six Siege, Warhammer: Dawn of War III, CS:GO, and DOTA 2. In Rainbow Six Siege, the 7800X3D was 21% faster than the 5800X3D, in War Hammer: Dawn of War III the 7800X3D was 22% faster, in CS:GO it was 23% quicker, and finally in DOTA 2 it was 30% faster.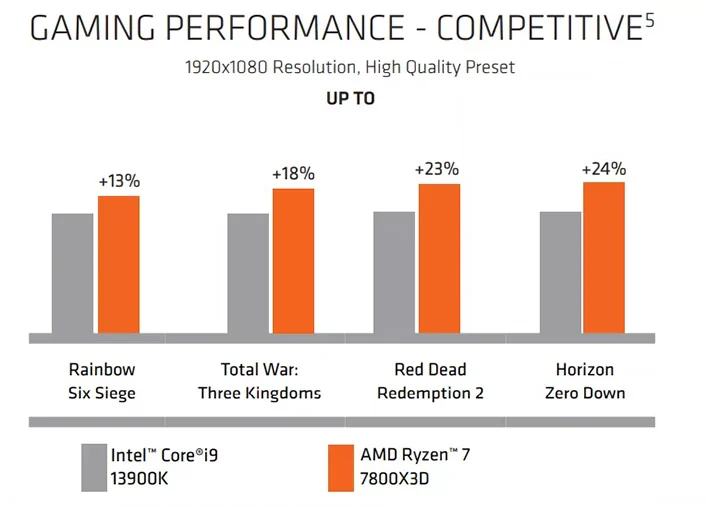 The 7800X3D's performance figures are impressive, and represent a massive leap in performance over both the 13900K and 5800X3D, despite the fact it has just half the core count of AMD's 7950X3D. In fact, according to
Tom's Hardware,
AMD's official performance slides of the 7800X3D correlate very closely to AMD's official performance figures of the Ryzen 9 7950X3D – before 3rd party reviews went live. With this comparison, we see there is a 0% to 3% performance margin between the 7800X3D and 7950X3D in
Rainbow Six Siege
and
Horizon Zero Dawn.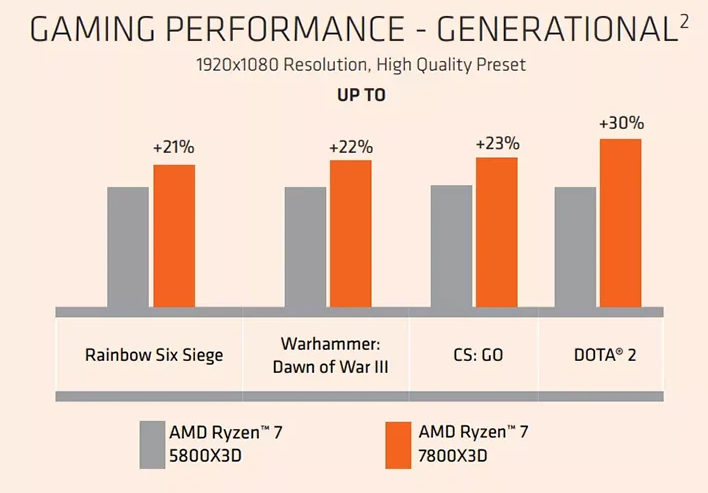 This confirms any suspicions that the 8-core Ryzen 7 7800X3D would be just as quick as its higher core count brethren. The L3 V-Cache chiplet found in the 16-core 7950X3D and 12-core 7900X3D are only utilized on one of the CCD's, making game performance highly dependent on the cores that have that big chunk of L3 V-Cache close by. Cores on the other CCD can still utilize the L3 V-Cache, but they incur a huge latency penalty due to data transfers needing to go through the infinity fabric.

AMD was forced to create new software and driver optimizations for the multi-CCD X3D chips so games would operate on the proper CPU cores. Thankfully, because the 7800X3D only utilizes a single CCD, it will not utilize any additional driver optimizations the other chips need. This will make the 7800X3D a better plug-in-play solution for gamers, and they won't have to deal with optimization issues or bugs that might occur with AMD drivers.

For more details about Ryzen's new 7000X3D CPUs, and 3D-V-Cache in general, check out our Ryzen 9 7950X3D review
here.
But the gist is AMD's 3D-V-Cache technology enables far higher CPU performance in games and applications that can utilizes the CPU's bigger L3 cache capacity. Not all applications will require lots of L3 Cache, but for the ones that do, it can make a big difference.
AMD's Ryzen 7 7800X3D officially launches on
April 6th,
so be sure to check out our review of the 7800X3D that should come up around that time.
Performance Slides Source: Tom's Hardware