AMD Instinct MI100 CDNA GPU Rumored To Fight NVIDIA A100 In The Data Center This Month
As consumers and gamers, we are very much interested in how AMD's
Radeon RX 6000 series
performs, and particularly how it compares to NVIDIA's GeForce RTX 30 series. Fun times in the PC gaming space await. But PC gaming is not the only battle ground. In the data center space, a new leak suggests AMD is getting ready to roll out a new round of Radeon Instinct accelerators.
This is important because NVIDIA has already hitched its latest-gen Ampere GPU to the data center wagon, with its
A100 GPU
. In fact, that was our first official introduction to Ampere, which weeks later found its way into the GeForce RTX 3090, GeForce RTX 3080, and GeForce RTX 3070 (and perhaps soon a
GeForce RTX 3060 Ti
as well).
For AMD, just as its second generation Radeon DNA (RDNA 2) architecture is the newest one for consumers,
CDNA is a new GPU architecture
for data centers and high performance computing (HPC) markets. It has been designed from the ground-up for machine learning (ML) and HPC applications, and will leverage AMD's Infinity Architecture interconnects.
As for when CNDA will land, the folks at
Aroged
claim they came across some information related to AMD's upcoming Instinct MI100 accelerator based on CDNA "quite by accident while studying the October edition of the AMD corporate identity book."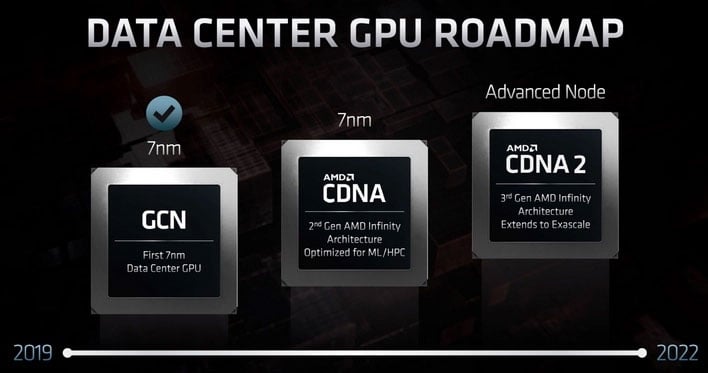 They say the book has been updated to show the new Radeon logo style, but what is most interesting is a section that informs readers of a November 16, 2020 embargo related to the new Instinct product branding guidelines. It also outlines three GPUs...
AMD Instinct MI100
AMD Instinct V640
AMD Instinct V620
This would not be a surprise. Earlier this year,
Hassan Mujtaba
from
WCCFTech
posted a supposed response from AMD's Mark Papermaster indicating that the MI100 accelerator with CDNA underneath the hood would materialize in the second half of 2020. And with AMD having launched its next-gen GPU architecture on the consumer side already, the time frame fits.
As to what kind of performance it will deliver, that is more of an open-ended question. Past rumors have it pegged as having
32GB of HBM2 memory
clocked at 1,000MHz to 1,200MHz, with a 200W TDP. The leaker who posted that info said it was based on a test board, so the clocks and TDP on the final revision could be different.
We should find out soon enough, if this latest leak is true.