Xbox Game Pass Ultimate Half-Price 6-Month Subscription Deal Returns
Anyone getting a new Xbox One for Christmas will be thrilled to get a subscription to Xbox Game Pass Ultimate along with it. Typically Xbox Game Pass Ultimate is $14.99 monthly, but a deal has returned from earlier this year that will get a six-month membership for the price of three months.
The deal is being offered via Amazon and is for three months of Xbox Game Pass Ultimate for $44.99. When that three months is purchased, the deal comes with another three months at no additional cost. That gives you a total of six months of all the games you can cram onto your hard drive and online access for $44.99.
A caveat for those seeing a cheap way to get an entire year of service is that the extra three months for free are only offered once per customer. That means you can't stack the service and get a year or more out of the deal. The codes that are handed out in the deal are good through March 15 when they expire.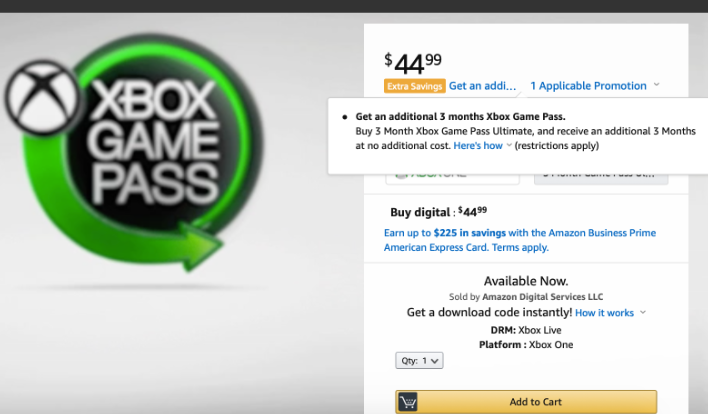 For those new to the service, Microsoft is still giving the first three months of Xbox Game Pass Ultimate for $1. That allows users to get nine months of service for $45.99 if purchased in such a manner. Remember, you have until March to use the code handed out in the Amazon deal. Microsoft adds new games to the service all the time with titles like The Witcher 3, Rage 2, and several Final Fantasy games coming in the next few months. The service also allows the playing of some titles on PC. This Amazon deal was going in October as well.