Amazon's Eero Max 7 Wi-Fi 7 Mesh Router Promises Wicked-Fast Game Downloads
Ready or not, Wi-Fi 7 is coming to supercharge multi-device homes with cutting-edge connectivity that aims to significantly speed up connections and reduce latency. Netgear was one of the first to start pushing out consumer Wi-Fi 7 routers, most recently with its
Orbi 970 series
. Now Amazon is following suit with its first Wi-Fi 7 mesh system, the Eero Max 7.
The rapid advancement of wireless protocols can be disconcerting for consumers trying to keep up, especially for anyone who recently made the plunge into
Wi-Fi 6E
or Wi-Fi 6 territory. It's not a conspiracy to milk buyers, though, and instead an effort to keep up with the demands of increasingly bandwidth-hungry devices and services.
We went over some of the highlights in our coverage of
Qualcomm's Wi-Fi Day
, but to briefly recap, Wi-Fi 7 works part of its magic by expanding on the 6GHz band introduced with Wi-Fi 6E. This is in large part due to doubling the channel width from 160MHz to 320MHz, which can come by way of aggregation. That's to say, the 320MHz channel width doesn't have to come from a single channel, and for example could aggregate a 160MHz 5GHz channel and a 160MHz 6GHz channel.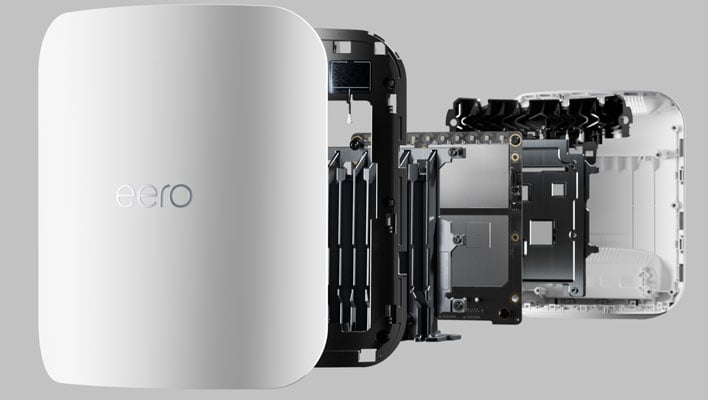 What's on tap from Amazon with its Eero Max 7 is a tri-band (2.4GHz, 5GHz, and 6GHz) mesh Wi-Fi system supporting wired speeds of up to 9.4Gbps and up to 4.3Gbps of wireless speed. According to Amazon, this makes it "possible to download a 4K movie in 10 seconds or a 50 gigabyte video game in less than a minute." That's impressive.
There's no dedicated backhaul on the Eero Max 7 like there is on Netgear's Orbi 970. Instead, Amazon is leaning on its TrueMesh networking technology to shuttle data on the fastest possible path based on different factors, such as a network's layout and interference from other networks and connected devices.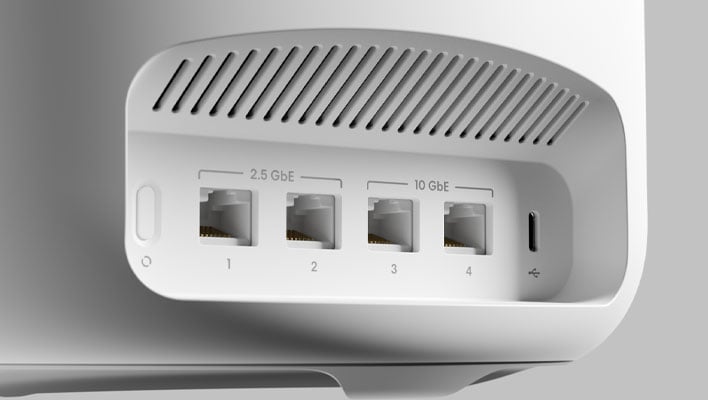 The Eero Max 7 is the first Eero product to serve up more than a pair of Ethernet ports. Twice as many, in fact, including two 10GbE ports and two 2.5GbE ports on the main router. One of those 10GbE ports can be used with a fiber internet plan, too.
Coverage looks good as well—Amazon says its mesh system supports having over 200 connected devices with up to 7,500 square feet of coverage for the 3-pack, 5,000 square feet for a 2-pack, and 2,500 square feet for just the main router.