Netgear Orbi 970 Series Wi-Fi 7 Mesh Router Flexes 27Gbps Of Wireless Bandwidth
Netgear has a new flagship wireless router and it's called the Orbi 970, which is actually a mesh router system based on
Wi-Fi 7
(otherwise known as 802.11be). In terms of combined bandwidth, the quad-band Orbi 970 series delivers speeds of up 27Gbps and up to 10,000 square feet of coverage to ensure no dead spots in larger homes.
"We've combined our extensive RF (radio frequency) expertise and new patented technology with the features of WiFi 7 to provide the fastest WiFi speeds, ensuring anything and everything connected to the Orbi 970 system operates at optimal performance even across the most demanding smart homes," says David Henry, President and GM of Connected Home Products and Services at Netgear.
As is the standard these days, router makers advertise the combined wireless throughput, which in this case is 27Gbps. That max throughput is not available over a single connection, though it does deliver fast speeds across its four available bands, including a 6GHz band, two 5GHz bands, and a single 2.4GHz band. Here's how it breaks down...
6GHz band (4X4/320MHz, 4K-QAM): 11,530Mbps
5GHz band (4x4/240MHz, 4K-QAM): 8,647Mbps (dedicated backhaul)
5GHz band (4x4/160MHz, 4K-QAM): 5,765Mbps
2.4GHz band (4x4/40MHz, 1K-QAM): 1,147Mbps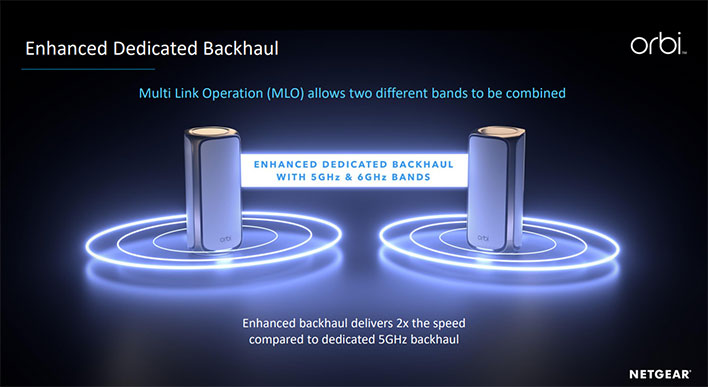 One of the features of Wi-Fi 7 is multi-link operation (MLO). The Orbi 970 series uses MLO to effectively double the bandwidth between the main router and supplementary satellites by combining the 5GHz backhaul with the 6GHz bands. The result, according to Netgear, is a 10Gbps wireless backhaul speed between router and satellites.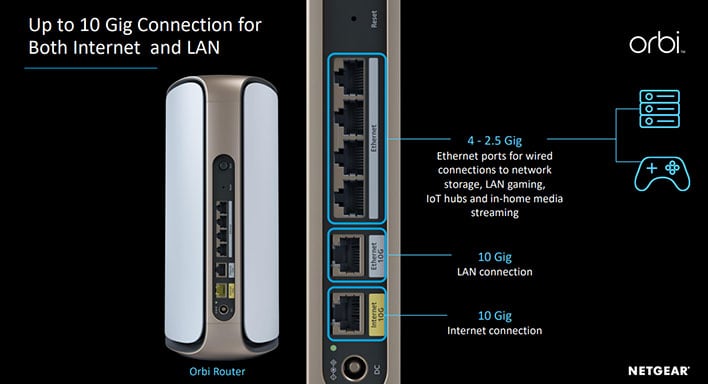 The Orbi 970 series also features impressive wired bandwidth. There are four 2.5G ports, a single 10G port, and a 10G WAN port on the main router, while the satellites each have two 2.5G ports and a single 10G port. Users can optionally connect the 10G LAN ports on the router and satellite for a 10Gbps wired backhaul to drive bandwidth-hungry devices and services.
All of this next-gen wireless goodness comes wrapped in a slim, sleek, and stylish package that's available in either black or white trim. They pack a dozen high performance antennas inside, along with high powered amplifiers for 360-degree wall-to-wall coverage.
Investing in Wi-Fi 7 hardware is a future-proofing move at this stage. For now, much of what the Orbi 970 series offers is overkill for the average user, which is reflected in the price—the Orbi 970 router 3-Pack (1 router + 2 satellites, RBE973S) is available to
preorder for $2,299.99
, while the 2-pack (1 router + 1 satellite, RBE972S) is
priced at $1,699.99
. Add-on satellites (RBS970) will cost $899.99 a pop.