An Alienware Gaming PC With AMD Ryzen 9000 Series CPUs Just Broke Cover
The first three generations of AMD Ryzen processors were given model numbers in the 1000s, the 2000s, and then the 3000s. However, between the launch of the Ryzen 3000 family and AMD's next-gen processors, the company
released some refreshed APUs
that it gave a 4000-series model number. That meant that the next-generation parts had to have a "5000" model number. The same thing happened before the release of Zen 4; the Ryzen 6000 family are mobile parts based on Zen 3+, so the first Socket AM5 CPUs became the Ryzen 7000 family.
We may be seeing the same sort of situation next year. Just yesterday we heard from HKEPC that when AMD's Phoenix and Phoenix 2 chips
hit the Socket AM5 platform
, they will
supposedly be called
the Ryzen 8000G family. Those parts, if you aren't familiar, use the current-generation Zen 4 CPU cores along with powerful RDNA 3 graphics. They may potentially also include XDNA neural processing units, or NPUs, at least on the higher-end models.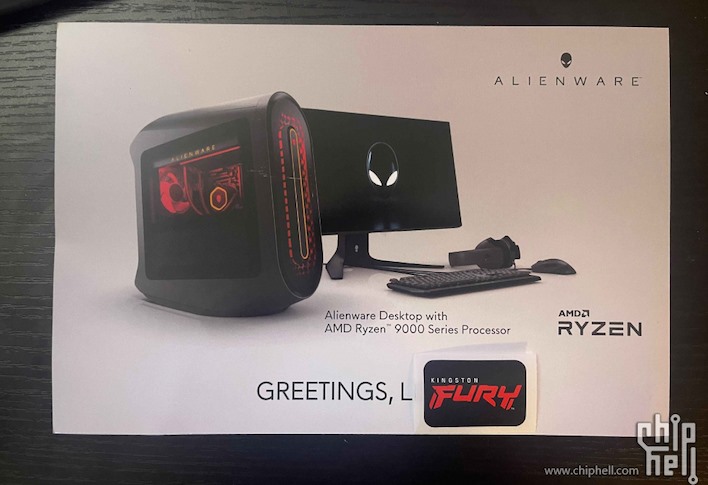 If that's true, it could explain this picture, which originates on Chinese-language forum ChipHell. The picture purports to be some kind of pack-in page for an Alienware desktop system. The interesting part is the small text below the picture: "Alienware Desktop with AMD Ryzen™ 9000 Series Processor." What in the world is
a Ryzen 9000 Series processor
?
The image itself is apparently an advertisement sent by Dell China to its recent customers. The original poster remarks that he only recently bought his Alienware system, and Dell is trying to get him to upgrade. It's pretty odd that Dell would be advertising Alienware systems based on Zen 5 processors already, though. Those chips aren't expected to launch until at least Q2 of next year.
Of course, it also could simply be fake. It would be very trivial to make up something like this, after all. The page looks reasonably official, but would Alienware really make and send a paper advertisement like this? If so, how did it get to the customer without being creased? If it was a digital flyer, why did he print it out and take a photo of it? There are many unanswered questions, and curiously, no one in the thread even brings up the idea that the page could be fabricated for attention.

Assuming
the picture is real
(and we're not saying it is), the obvious implication is that AMD is leaving the 8000 series for its APUs and that the true next-generation processors with Zen 5 cores will appear as the Ryzen 9000 family. There's nothing here really to suggest that, specifically, but it's a pretty reasonable guess. It also fits the pattern of new Zen architectures releasing with odd-numbered Ryzen CPU families, which has actually always been the case. We probably won't know any more official details until CES in January.