Alienware's Revamped Aurora R15 Gaming Desktop Could Take On Boutique Builds
We have been enjoying some hands-on time with
Alienware's
new Aurora R15 gaming desktop PC. The sleek exterior may be familiar, as Alienware has continued to iterate the Legend 2.0 design language for several generations now. Nevertheless, gamers should be satisfied to hear this machine has the latest gen processors – and some cooling system refinements – in this latest iteration.
As you might expect, the Aurora R15 features the latest and greatest from Intel and NVIDIA to speed your gaming and content creation. From Intel, buyers can configure a 13th gen Core Raptor Lake processor. From NVIDIA, you will have a choice of up to a
GeForce RTX 4090
graphics card, but also AMD Radeon 6000 series GPUs are on the table as well. Our specific sample combined the charms of Intel's
Core i9-13900KF
24-core CPU and a GeForce RTX 4090.
We observed that as well as the latest performance components, Alienware's engineers had worked on a new thermal design, and the motherboard is also the latest gen model, packing Intel's Z790 chipset, which is an appropriate choice for the unlocked CPU and this system as a whole.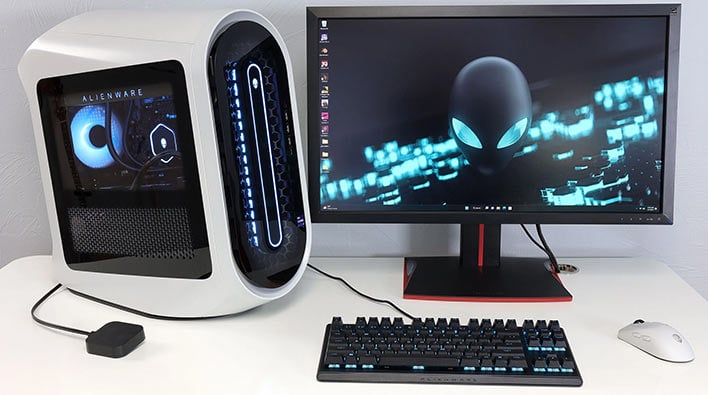 Our model was one of the liquid cooled configurations. It was notable that in this latest generation of the Aurora PC, Alienware has beefed up the radiators from a single 120mm config to a dual fan 240mm heat exchanger. And the system can fit up to five case fans, too. These tweaks are said to facilitate a CPU temperature reduction of 5 degrees Celsius compared to the previous gen, and 19% greater airflow. Best of all, perhaps, the system is claimed to run up to 66% quieter when under load. We can definitely attest to this as we observed just 44dB of acoustic output under a gaming load.
Other components which make up the build include a Kingston Fury Beast 32GB DDR5-5200 RAM kit, a 2TB NVMe 4x4 SSD (with one slot spare), a 2TB 7200RPM HDD, and a 1350W Platinum rated PSU. Features and I/O provided by the Z790 motherboard include Killer 2.5G Ethernet, and there is a Killer Wi-Fi 6e and Bluetooth 5.2 M.2 module installed in our sample.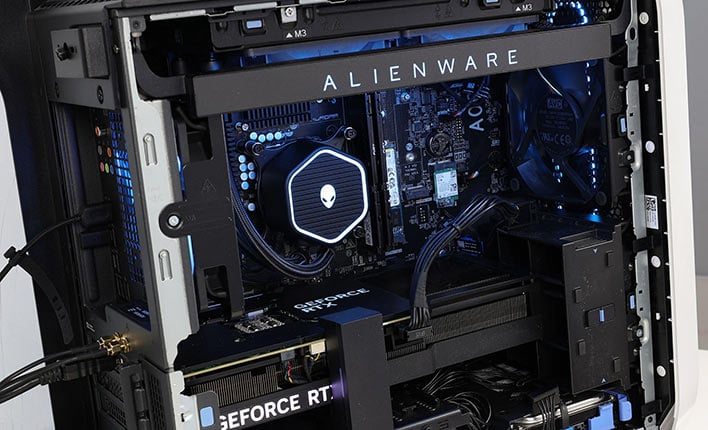 With the Aurora R15 on the test bench, we observed a very easy to open, but secure, side panel. When removed, a clean interior layout was presented, with what appeared to be a sensible case fan configuration. Powering up, Alienware's prior claims about cooling seemed to check out, with the system eminently stable when handling 100% CPU and GPU workloads. Moreover, the CPU never got hotter than 90 degrees Celsius, with the GPU hitting a 70-degree Celsius ceiling.

We'll have many more benchmarks when we publish our full review early next week!
This is a premium build, and with the Alienware name on the case, you might be worried about pricing. However, the system starts at $1,399 with base-level specs. Admittedly, the Aurora R15 Gaming Desktop as tested costs $4,318. The pricing got us thinking of pre-built value vs DIY, so we thought it would be interesting to put together a home-made system with the same key components.

Alienware Aurora R15 Gaming Desktop - Similar Components List For Comparison
The total price of our DIY machine at time of writing is $3,290. Component prices may shift up and down by the time you click through to purchase. You could choose to spec-up or down the components, to fit in with your preferences, of course. Our machine would have its own charm, but would of course lack the unified appeal of a big name pre-built. Adding in additional flourish like RGB fans, dedicated fan controllers, RGB strips can quickly add expense as well. Also, you will need to add an OS, and don't forget to pay yourself for labor!

Alienware Aurora R15 Gaming Desktop Vs Boutique Rivals
Of course, building a PC from parts isn't for everyone. As our headline alludes to, Dell is gunning for a more boutique experience with the new Aurora R15. We checked out configuration options from Maingear and Falcon Northwest, both respected boutique brands, to see how pricing fares on that front.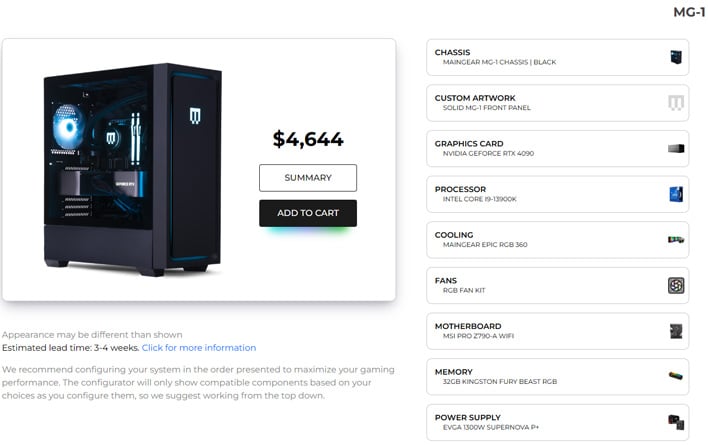 Up first, the new
Maingear MG-1
impressed us in our full review. With a close-to part comparable configuration, the MG-1 weighs in at a few hundred dollars more. We also need to consider that the MG-1 does not have a bulk HDD option available.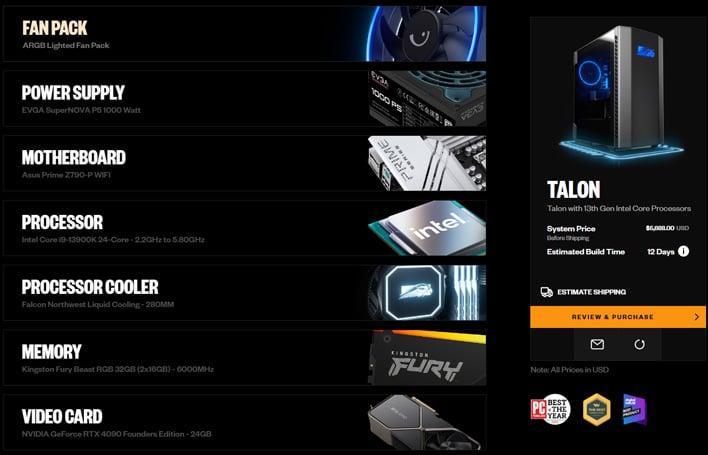 Falcon Northwest often represents the pinnacle of premium boutique options, particularly with its
Talon desktop
, so its eye-watering pricetag is not a surprise. Like the MG-1, this configuration foregoes a 3.5" HDD, but the option is available – starting at 8TB for an additional $322.
We could bring more boutique builders into the mix, but this should provide better context of where the Aurora R15's pricing lands. Of course, there are great reasons to go with any of the options we've discussed today. Are you enthralled
with DIY building
, or do you prefer to hand off the minutia to a dedicated System Integrator? Different strokes for different folks and use cases, of course, but let us know your thoughts in the comments.