AMD Ryzen 9 8940HS Hawk Point APU May Have Just Made A Benchmark Cameo
An AMD engineering sample that appeared on the Geekbench browser appears to be one of AMD's upcoming Ryzen 8000 mobile CPUs, code-named Hawk Point. The CPU model is specifically believed to be one of AMD's top-of-the-line variants, the Ryzen 9 8940HS. If true, that would make this one of the first Geekbench 6 results featuring the new chip. According to its scores, the chip is more performant than the previous-generation Ryzen 9 7940HS, but not by much.
According to the Geekbench listing, this new 8940HS prototype comes with 8 cores, featuring a base clock of 4GHz, a boost clock of 5.139GHz, and 16MB of L3 cache. The chip was part of a system with 32GB of DDR5 SDRAM running at 4800 MT/s. Interestingly the Geekbench browser lists the CPU's codename as Phoenix, but given that this is an engineering sample, the benchmark probably doesn't know any better and thinks this new prototype is another Phoenix chip.
AMD's suspected Hawk Point engineering sample scored 2596 points in Geekbench's single-core benchmark and 13258 points in the multi-core benchmark. According to benchmark results of the Ryzen 9 7940HS in the same benchmark, the 8940HS is 4.2% quicker in single-core performance and 10.8% quicker in the multi-core benchmark.
If these results are legitimate, it confirms that AMD's upcoming Ryzen 8000 chip won't be stupendously quicker than its predecessor, as some might have hoped. But, this isn't a big surprise given what we know about some of the architectural characteristics of Hawk Point.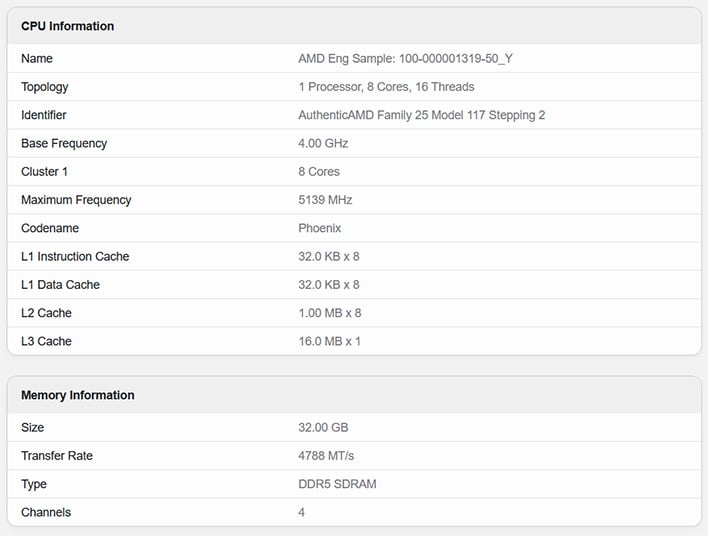 According to current rumors,
Hawk Point
is supposed to be a refresh of the Ryzen 7040 series mobile CPUs (codenamed
Phoenix
) rather than a complete generational upgrade. As a result, the highest configurations will remain the same as the 7040 series, meaning they'll have eight Zen 4 cores and 12 GPU CUs. However, there are a few upgrades that may show up with Hawk Point. That list most notably includes a move to RDNA 3.5 for the APU's integrated graphics, but AMD could also boost clock speeds a bit higher to separate the "8040 series" chips from their predecessors. Of course, none of this is confirmed yet.
Even if AMD provides just a GPU upgrade for the "8040 series", it could still be a solid upgrade for notebooks sporting these chips. Just like Phoenix, Hawk Point will be geared toward ultralight notebooks and gaming notebooks, so powerful integrated graphics parts are just as important as speedy CPUs, especially for users who want to play games on their thin and light machines. Full blown gaming laptops with discrete graphics can also benefit from a fast iGPU, since a faster IGP allows the discrete GPU to have more downtime, improving battery life.

Nonetheless, the chip's performance in
Geekbench
is very respectable for a refresh, especially if AMD intends to only bolster the iGPU side of these new chips as previously discussed. Remember to take these results with a grain of salt, because power limits can vary between laptops (and test rigs), making direct comparisons difficult. Of course, you also have to keep in mind that this is just an engineering sample and likely doesn't represent the performance of final products.