Alleged Ryzen 9 7950X3D Benchmark Leak Shows AMD's 3D V-Cache CPU Besting Intel's 13900K
The AMD faithful are liekly elated, as this coming Tuesday marks
the official release
of AMD's Ryzen 9 7000X3D processors. That's the 12-core Ryzen 9 7900X3D and the 16-core Ryzen 9 7950X3D, both equipped with 64MB of 3D V-Cache on top of
one of their
eight-core CCDs. Those who bleed AMD red may have already pre-ordered the new processors, but if you're on the fence, you'll want to see benchmarks, right?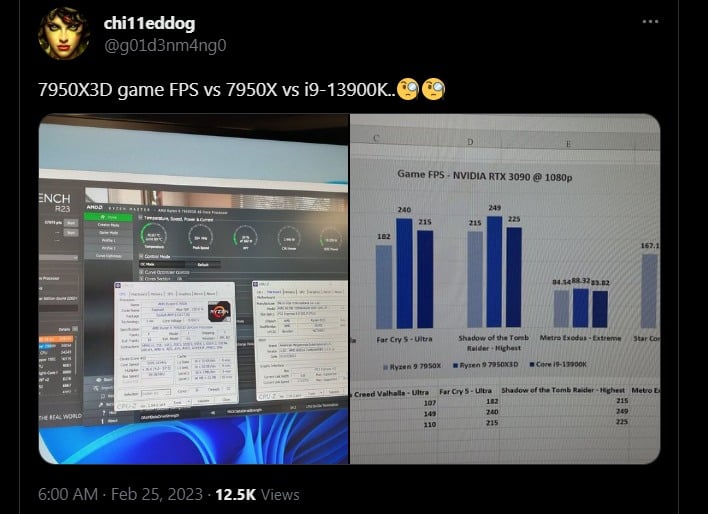 Well, here's a few leaked benchmarks from a regular and reliable leaker with a tedious-to-type name, chi11eddog (@g01d3nm4ng0 on Twitter). Using a pre-release Ryzen 9 7950X3D, chi11eddog ran Cinebench R23's multi-core test as well as a small suite of gaming benchmarks. Helpfully, the leaker also includes benchmark data from the extant
Ryzen 9 7950X
as well as a Core i9-13900K in the game benchmarks.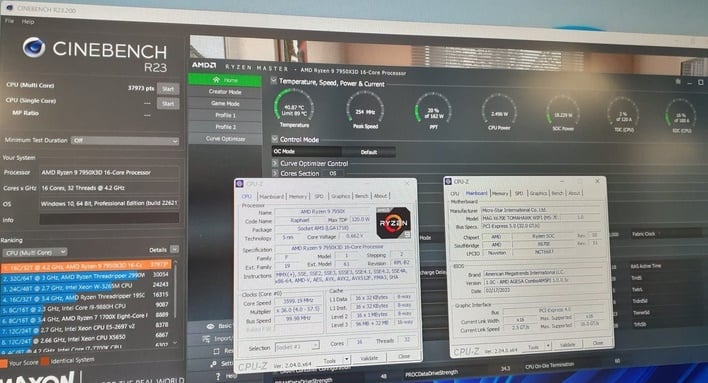 First up, we'll glance at the Cinebench result. In the screen photo, we can clearly see a multi-core score of 37973 points for Cinebench R23, and that's a fantastic result. In our own testing, we scored the Ryzen 9 7950X at 36193 points in the same test, so the 3D V-Cache CPU is actually scoring slightly better. That's a little unusual, as Cinebench doesn't normally care about cache or memory bandwidth too much, but it could be down to differences in our system configurations or the use of PBO or Ryzen Master's Core Optimizer tool.
Meanwhile the gaming results (below) offer a whole bunch more data. The five games tested were Assassin's Creed Valhalla, Far Cry 5, Shadow of the Tomb Raider, Metro Exodus, and "Star Control," which we have to assume is Star Control: Origins. The leaker used a GeForce RTX 3090 card running the game at 1080p resolution, which is more-or-less standard practice to tease out differences in game performance between the CPUs.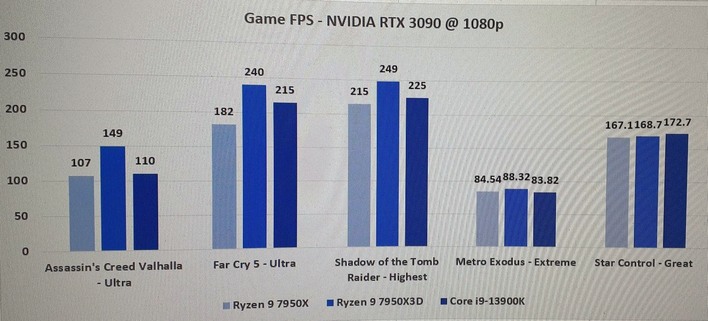 Overall, the actual performance variance isn't massive between the standard Ryzen 9 7950X and
the Core i9-13900K
, which is similar to the results we recorded in our reviews. However, in three of the games, the Ryzen 9 7950X3D absolutely leaves the other two chips in the dust, beating the 13900K in
Assassin's Creed
by 35%, in
Far Cry 5
by 11%, and in
Shadow of the Tomb Raider
by 10%. Meanwhile, the differences between the processors are basically rounding errors in the other two games.
If these numbers hold true, this is an extremely strong showing for AMD's upcoming CPU, and we're looking forward to testing it ourselves in a controlled environment. If you're eager to see those numbers for yourself, keep an eye out for our review next week, as well as a
launch-day livestream
where we'll have a special guest from AMD to talk about the new CPUs.