Samsung Galaxy Z Flip 4 Review: A Fun Fashionable Foldable
Samsung Galaxy Z Flip 4 Review: Voice, Data, And Benchmark Performance
Samsung has shown consistently good antenna performance in recent years, and the Flip4 keeps up the trend. We tested it in areas of high congestion and poor coverage, and it maintained a connection better than most phones. It's available fully unlocked with 5G band support for all major carriers on both sub-6 and millimeter wave frequencies. Like the Fold4, the Flip4 has a small plastic window in the frame for one of the mmWave antennas. It's not the most attractive design element, but should improve reception and connection reliability.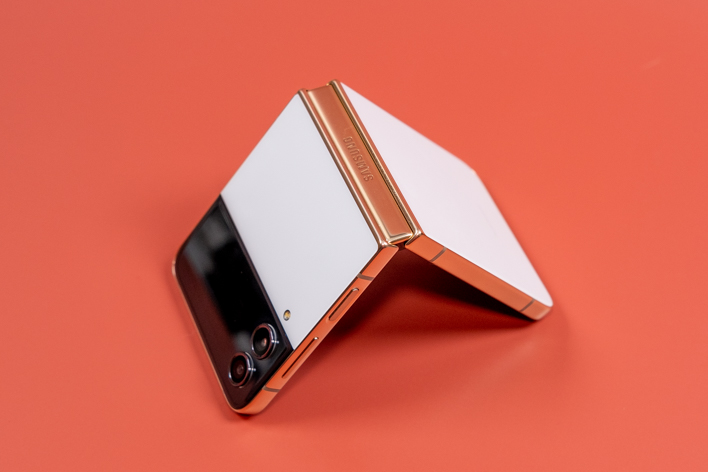 There is one minor connectivity drawback compared to the more expensive Galaxy Z Fold4: Wi-Fi. While the more expensive foldable supports Wi-Fi 6e, this one tops out at 6. That means no 6GHz network support, which isn't hugely important now but could become desirable down the road.
Samsung Galaxy Z Flip4: Voice And Data
The Flip4 is a good phone to make calls. You can prop it up in speakerphone mode and walk around while still being able to see the screen. You can also fold it to get the mic closer to your mouth in noisy environments. Speeds were about as fast as we ever see on T-Mobile in this area, which has the carrier's "ultra capacity" 2.5GHz frequencies. Download speeds are consistently in the hundreds of megabits per second, but upload speeds lag behind. They even appear to be slowing over time, but that's not the phone's fault. Where you have good coverage, the Flip4 (and other recent Samsung phones) will get similar speeds to other phones. Samsung shows everyone how it's done when signal isn't so good. The Flip4 maintains usable speeds when our Pixel 6 struggles to maintain a few megabits.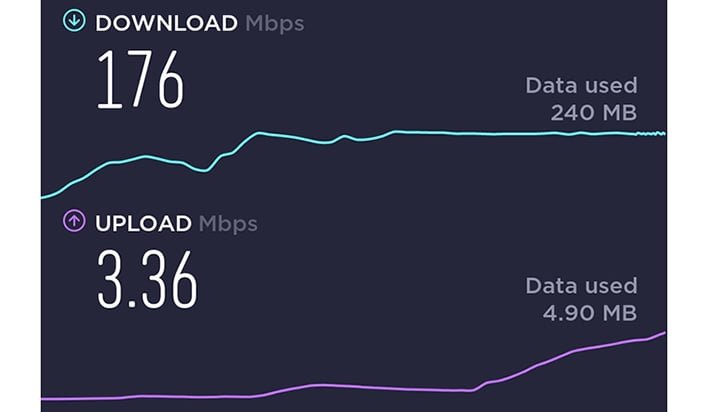 Samsung Galaxy Z Flip4 Performance
The Z Flip 4 has the same Snapdragon 8+ Gen 1 chip we saw in the Galaxy Z Fold4 and
OnePlus 10T
. The performance is roughly in-line with those devices, trending closer to the Fold4 which has the same software and optimizations. The Flip4 puts up some big benchmark numbers, but it loses more performance as it heats up compared to the Fold4, and that phone is already at a disadvantage compared to OnePlus during sustained use.
Samsung Galaxy Z Flip4 Geekbench Results
Geekbench is a cross-platform benchmark that simulates real world processing workloads in image processing and particle physics calculation scenarios. We tested all of the smartphones featured here with Geekbench's single and multi-core workloads.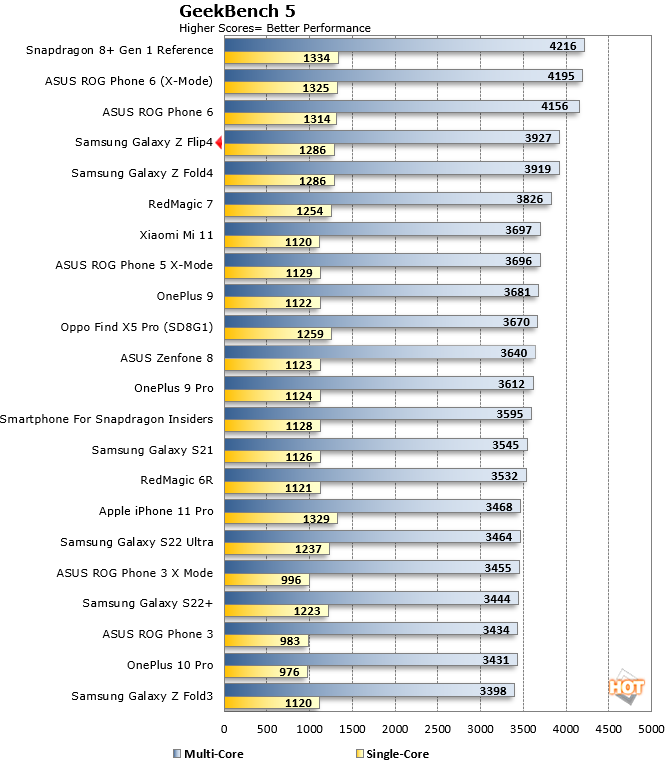 Geekbench is not always the most informative benchmark as it's completely synthetic and OEMs are known to optimize for it. Regardless, Geekbench can be a useful, relative data point. The Z Flip4 gets close to the top of the charts, almost exactly matching the Fold4, with only the performance-tuned ROG Phone 6, Snapdragon reference platform, and iPhone13 Pro ahead.
Samsung Galaxy Z Flip4 PCMark For Android Results
UL's PCMark for Android is an excellent suite of tests if you want to benchmark a wide range of tasks on any handset -- things like image and video editing, as well as lighter-duty, everyday workloads such as email and web browsing. When you see the test running live, it's clear the scripted application tests are carefully selected and tuned to make use of the each mobile platform in a very controlled way.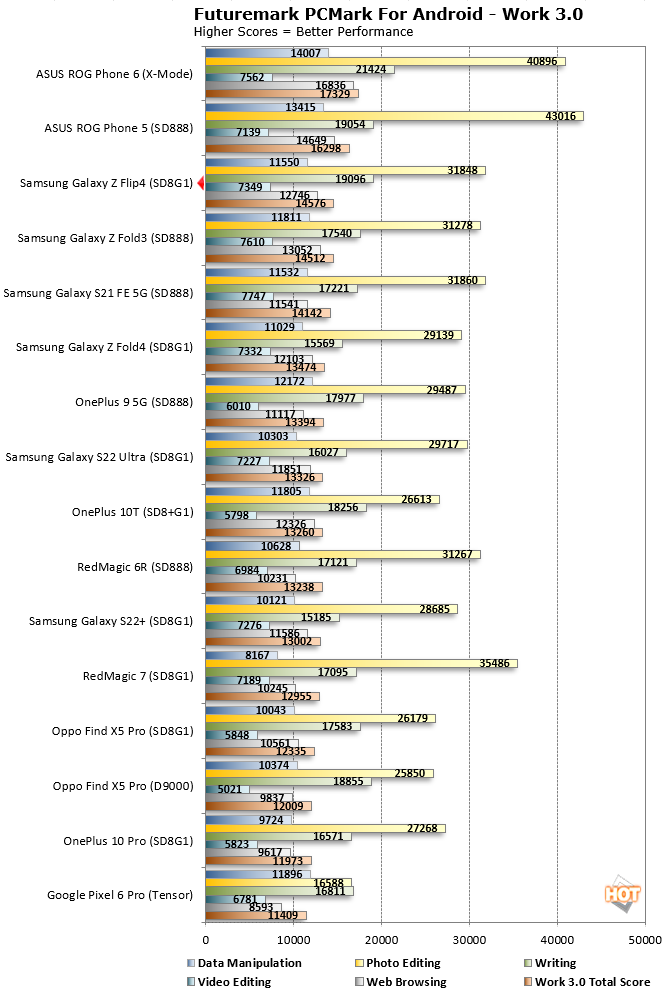 The Z Flip4 manages one of the highest overall scores we've seen in this test, edging out the Fold4, leaving just the ROG phones ahead.
Samsung Galaxy Z Flip4 AnTuTu 8 Benchmark Results
AnTuTu's latest benchmark returns a number of metrics ranked with somewhat nebulous scores, rather than frame rates or time to complete. Here we're running the latest version of AnTuTu across multiple Android devices. AnTuTu returns four top level performance results which are all included here: CPU, RAM, 3D, UX (or User Experience), along with a total score.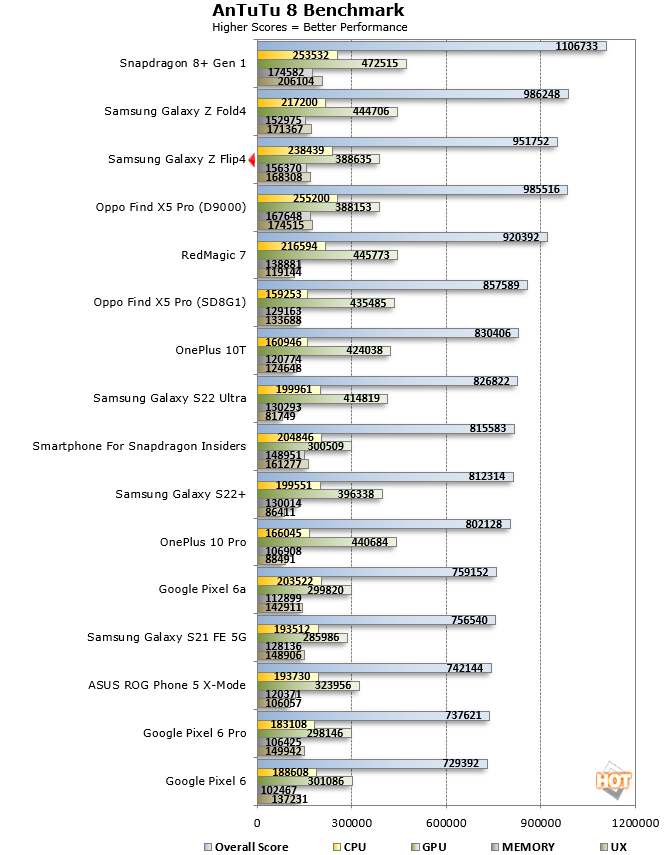 The Flip4 is one of the highest-scoring devices in Antutu, up at the top with the Fold4 and the Snapdragon 8+ Gen 1 reference platform.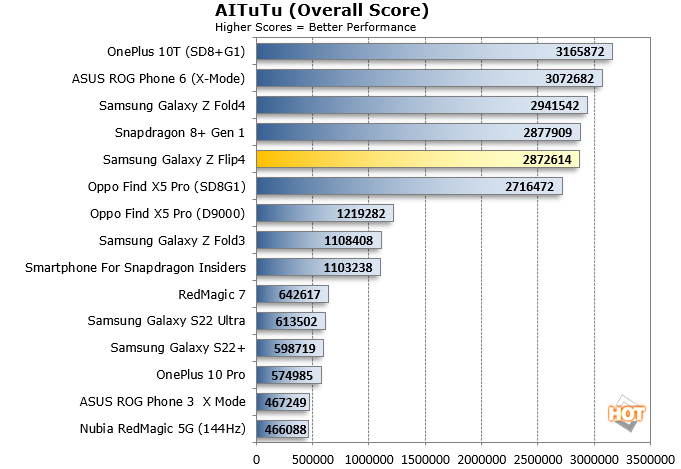 We've seen Qualcomm's latest chips put up impressive scores in general machine learning tests like AiTuTu, even compared to Google's AI-optimized Tensor. It's the same story with the 8+ Gen 1. The Galaxy Z Flip4 falls just behind the Snapdragon reference hardware, showing a small overall loss compared to the Z Fold4.
Samsung Galaxy Z Flip4 3D Graphics And Gaming Benchmarks Results
Up next, we're checking how the Galaxy Z Flip4 compares in GFXBench, which has been one of the standard mobile graphics/gaming performance benchmarks for years. To ensure that display refresh (v-sync) and resolution aren't limiting factors, we're comparing off-screen test results here. GFXBench tests OpenGL ES graphics workloads and we're specifically testing OpenGL ES 2.0 and 3.0.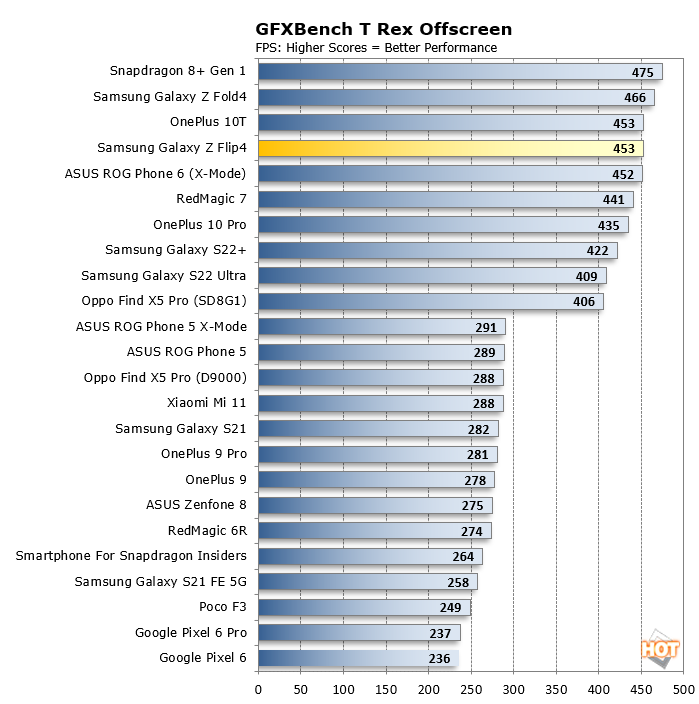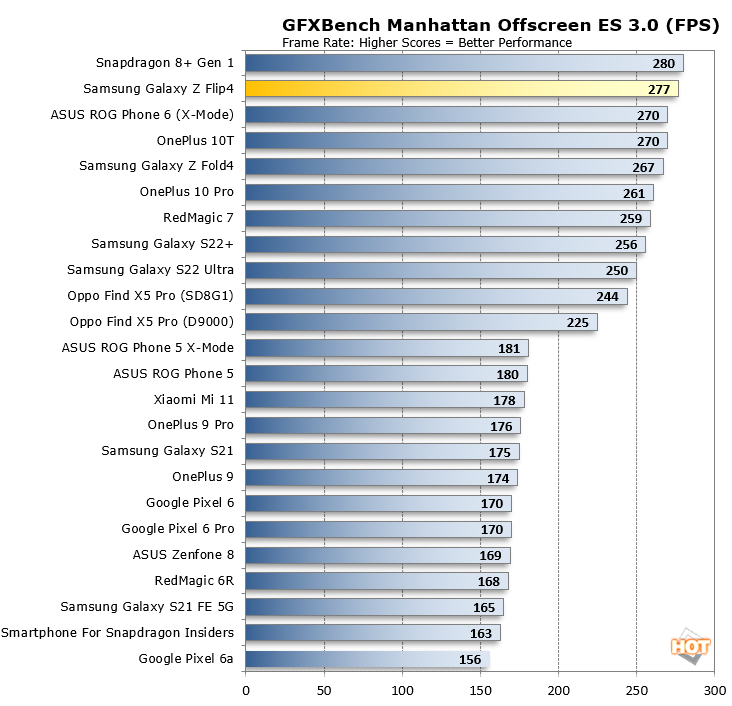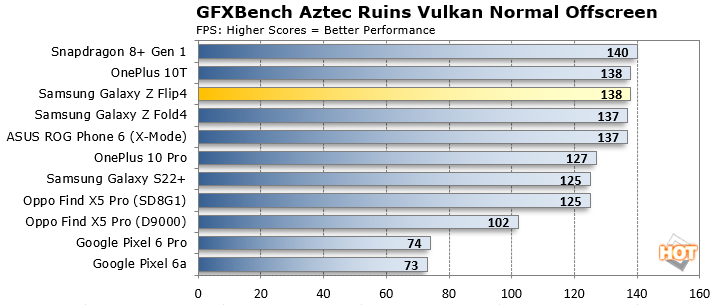 The GFXBench numbers are good for Samsung. The Galaxy Z Flip4 ties the OnePlus 10T in two tests, and it's the highest scoring retail-ready, consumer phone in the Manhattan test, running just behind the 8+ Gen 1 reference.
Samsung Galaxy Z Flip4 3DMark Slingshot Tests
UL's 3DMark Sling Shot is a newer benchmark module that's been added to the 3DMark mobile suite. Unlike previous gen 3DMark mobile tests, Sling Shot is a much more advanced OpenGL ES 3.1 and Metal API-based benchmark that employs more advanced rendering techniques, like volumetric lighting, particle illumination, multiple render targets, instanced rendering, uniform buffers and transform feedback. We're running this test in off-screen mode once again to remove display resolution differences from the equation. This lets us compare cross-platform results more reliably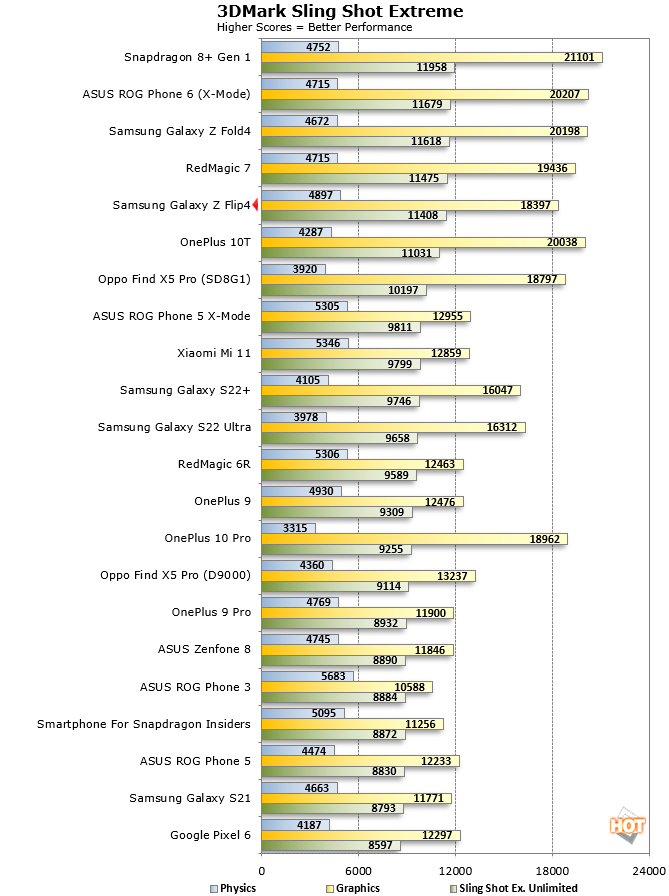 The Z Flip4 falls back a bit from its highs in GFXBench here, but it's still competitive with the Fold4, and it scored higher than the
OnePlus 10T
.
Samsung Galaxy Z Flip4 3DMark Wild Life Benchmark Tests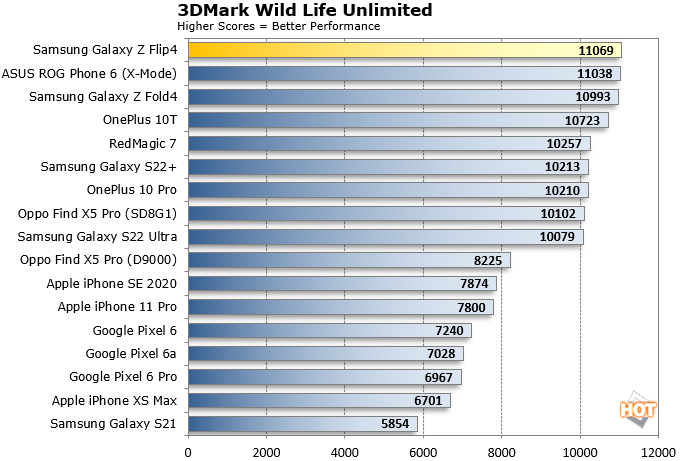 In the latest 3DMark test, the Galaxy Z Flip4 has topped the charts. It even beat the performance-tuned Asus ROG Phone 6. However, it does not remain at this lofty peak for long in actual use.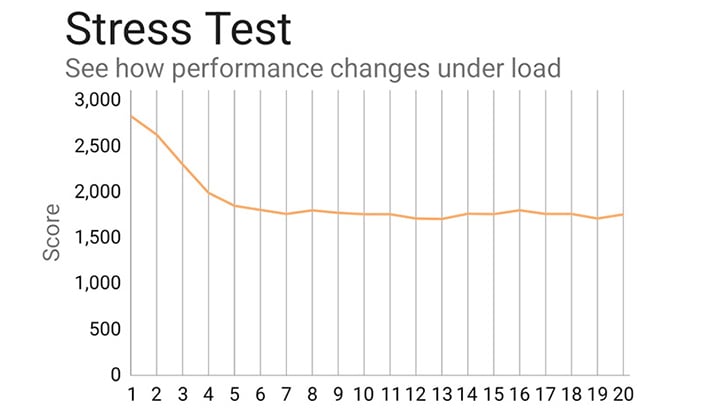 Graphical performance drops precipitously in the first few benchmark cycles, coming to rest about one-third lower than the first run. If you're playing an intense 3D game, you will notice the Flip4 slowing down after a couple of minutes. However, it will still be reasonably fast when it hits its floor.
Related content
Comments