Windows 10 Will Soon Let You Uninstall Unused Apps Like Paint And WordPad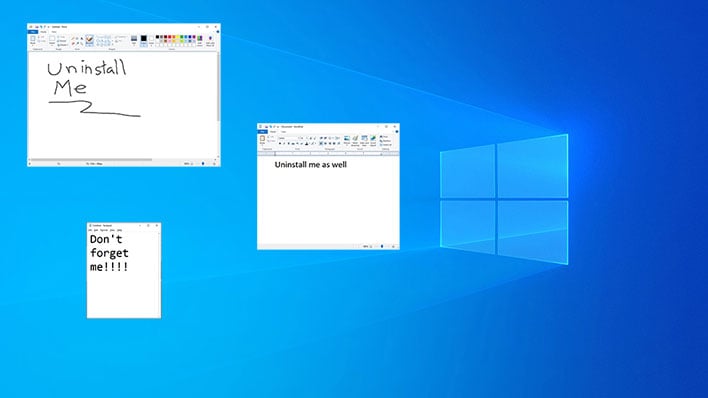 Windows 10 is a constant work in progress—
Microsoft
ditched the practice of pushing out monolithic upgrades and instead committed to releasing two major feature upgrades each year (and of course it maintains month security patches on the second Tuesday of every month, known as Patch Tuesday). One of the features that is headed to a future build of
Windows 10
is the ability to uninstall a handful of native apps. Well, sort of.
This is currently being tested in the Windows Insider program as part of the upcoming
Windows 10 20H1
release, which is the first of two major updates scheduled for this year. As currently being tested, Microsoft's native Paint, Notepad, and WordPard programs are optional features. Users have the option of disabling them so they no longer show up.
Strictly speaking, this is not a true uninstallation, as users can do with third-party apps and certain bundled programs. That's to say, you will not find the ability to uninstall them in the Add or remove programs section of System settings. Instead, they will show up in the Optional features section, which is under the Apps & features heading.
At present, you will find programs like Internet Explorer 11 and Windows Media Player in the same section. When you click on one, it expands to show an Uninstall button, as shown above. This is where Paint, Notepad, and WordPad—three stalwarts of Windows—are seemingly headed with the upcoming Windows 10 20H1 release.
When you 'uninstall' these programs, they are kicked from the Start menu and are no longer found when performing a search, nor can they be executed in any way. The only caveat with all this is whether or not the ability to disable these apps makes it to the final Windows 10 20H1 release that will ship to the public later this year. We will not know for sure until around April or May, which is when we anticipate it rolling out.
Bear in mind that these programs are not resource hogs—they don't consume much memory when run, and they do not take up a lot of disk space (around 13MB combined for all three). But if you never use them and want to tidy things up, it looks like you soon will be able to.