What Specs You'll Need To Start Your Engines When EA Sports WRC Races To PC
Racing fans, you'll want to start tuning up your racing rig!
EA Sports WRC
is coming to your living room race track on November 3rd. Promising to be one of the the most ambitious titles for the rally racing genre, we can feel the drifts already! If you'd like to take a break from the likes of games such as
iRacing
, rally racing ups the visceral excitement.
EA Sports WRC
is being developed by Codemasters, which is no stranger to high-quality racing titles. Amongst the developer's repertoire has been the fun
Assetto Corsa
, and the popular
F1
franchise. If you've gone ahead and ordered your racing gloves, the next step will be ensuring your PC specs will be able to handle the game. Thankfully, EA Sports has revealed what the minimum and recommended specs will be.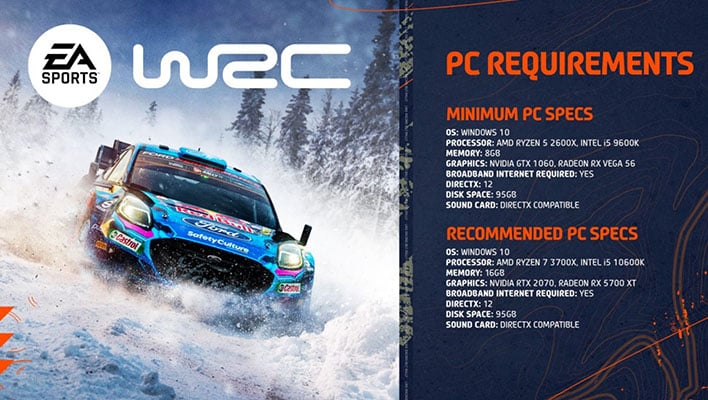 Right off the bat, let's be thankful that the PC requirements for
EA Sports WRC
are very forgiving compared to some titles such as the recently released
Alan Wake 2
. What do you need at the very minimum to even run the game? First, Windows 10 as expected, paired with at least 95GB of free space. EA recommends an SSD, but it's not a bare minimum for those who want to brave it out with a spinning hard drive. 8GB of ram is the minimum, although we'd gather most gamers have moved on to at least 16GB by now.
The CPU requirements aren't very demanding, either. With the entry barrier being simply an AMD Ryzen 5 2600X or Intel Core i5-9600K, most gamers should be covered here. How about the minimum GPU needed? If you're rocking an NVIDIA GeForce GTX 1060 or Radeon RX Vega 56 and above, you'll be able to run the game.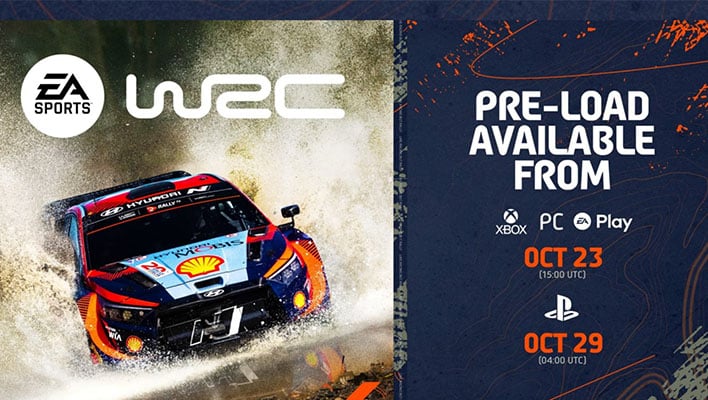 If you're the type that wants a bit more pizazz in your frame rates, EA also gives us what it thinks the best recommended PC specs will be. Starting off with the same basic Windows 10 and 95GB on an SSD, but this time 16GB of ram is best. The CPU also gets a generational bump here, to the AMD Ryzen 3700X or Intel Core i5-10600K. Most enthusiast gamers should be close to this spec, but it is requiring some more modern hardware to meet the recommendations.
In the graphics department, we start to leave some older GPUs in the museum already. With the GeForce RTX 2070 or AMD Radeon RX 5700 XT recommended here, you're dealing with some options that not all gamers may have currently. While this is not a particularly demanding set of recommendations, it surely is telling us where the "line in the sand" of recommended hardware is being drawn.