Western Digital Pulls My Cloud Service Offline In Wake Of Security Incident
Storage heavyweight
Western Digital
announced over the weekend that it has suffered a "network
security
incident," which is a less alarming way to say its systems have been hacked by unknown threat actors. The company says it is currently working to investigate the attack and secure its systems, and that means Western Digitals' customers may experience some inconveniences. As of this posting, the company's My Cloud online storage system has been down for more than a day.
Western Digital is being quite vague about the attack, which it refers to exclusively (and innocuously) as an "incident." The company says that upon discovering the breach, it took action to
secure its data
and reported the invasion to law enforcement. Part of that effort required proactively disabling some services, like the My Cloud remote access infrastructure.
The My Cloud service is integrated with the company's line of My Cloud-branded network storage boxes. These products are a simplified streamlined take on network attached storage (NAS). The pitch is that you can wirelessly back up and access your data anywhere you have an internet connection, but the data lives on a hard drive in your home. However, none of the My Cloud features work right now with the service
completely offline
.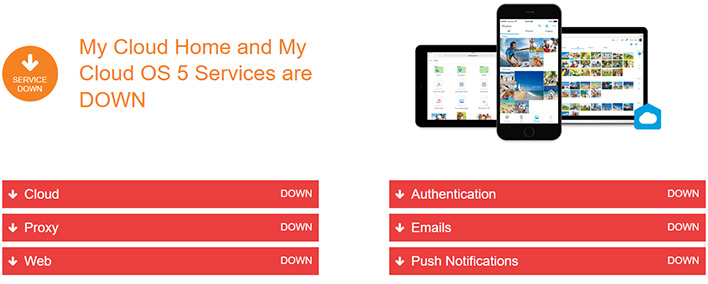 The status page for My Cloud lists Cloud, web, authentication, and other services as "down" with no estimate of when they will be restored. Attempting to load any My Cloud web service—even just the login page—results in a 503 "Service Temporarily Unavailable" error.
We can only speculate about how severe the hack was, but Western Digital does say that it believes the attackers managed to obtain "certain data." It is working to understand the scope of the attack, but the decision to completely shut off cloud access to customer data suggests the attack placed users at risk, and it
wouldn't be the first time
. Western Digital promises more information about the breach will be released later. In the meantime, it wouldn't be the worst idea for My Cloud owners to unplug their hard drives. Better safe than sorry.